Historical News Items
---
1444

Thomas Walton, a groom from Arkendale, was hanged in 1444 for taking silver belonging to Richard, Earl of Salisbury at Sheriff Hutton and Stamford.


---
1456

In 1456-57 William Stable of Arkendale sold grain worth £6 10s. to Fountains Abbey


---
1773 - ACT

An Act for Dividing and Inclosing the Open Fields, Stinted Pasture, Common and Wastes Within the Manor of Arkendale, in the West Riding of the County


---
1812 - report of death (April)

Mr. Edward Lorrimer, an opulent farmer of Arkendale, near Knaresbro'. He was a gentleman of integrity and exemplary character.


---
1818 - Arkendale Poisoning

See the Arkendale Poisoner page


---
1818 - Accused of Murder

Committed to the Castle: Hannah Hollingworth (29), wife of William Hollingworth, charged on the oath of John Wardman, constable of Allerton, Hopperton and Flaxby, on suspicion of having murdered and concealed a male infant child, found dead under a bridge in the township of Arkendale.
She was taken before the Lent Assizes, at the Castle of York, on March 6, 1819.
Newspaper report - 5 September 1818


---
1820 - Auction of Houses

ARKENDALE TO BE SOLD BY AUCTION, by Thomas Allinson, at the House of Wm. Thompson, Publican, in Arkendale, near Knaresbro', Friday, the 3rd of November, 1820. ALL those FIVE Copyhold DWELLING HOUSES, with a Stable, and about Two Roods of LAND adjoining the same, now in the Occupation of William Mountain, the Owner, and his Tenants. The Sale to begin at Four o'Clock in the Afternoon.
Newspaper advertisement - 21st October 1820


---
1827 - Arkendale Man in Coach Crash

FATAL COACH ACCIDENT - Leeds, Saturday, Nov. 24:- We have this week the painful, duty of recording an accident of this nature, more fatal in its consequences than any that has occurred in this neighbourhood for several years. The True Blue Coach, which runs daily between Leeds and Wakefield; left the latter place at four o'clock on Thursday evening, having four outside passengers, exclusive of the coachman, and four inside. The coach proceeded at the usual pace until it arrived at the top of Belle Hill about three miles from this town; in descending the hill, in which the precaution of locking the wheel had not been observed; the horses got into a gallop, and at the bottom, the coach being on the wrong side of the road, came into violent contact with a coal cart; the collision was so great as to break the shaft of the cart, which it overturned, and to tear away the wheel of the Coach with a part of the axletree. The coachman was thrown from the box, and pitched with his head upon the ground; his skull was dreadfully fractured, and he died instantly. The effusion of blood was so great as to cover the ground for several yards. The coach went forward on the three wheels for ten yards, and then fell over. The consequences were dreadful. Mr. Cope, of Park square in this town; artist, one of the outside passengers, received a severe internal injury. He was taken up in a state of insensibility, and removed to a neighbouring cottage, where he remained all night, and from whence he was removed in the forenoon of yesterday, to his own house, in a litter; and we learnt with regret last evening, that very faint hopes were entertained of his recovery. Mr. James Burrill, overseer of Arkendale, near Knaresborough, another of the outside passengers, was thrown under the coach, and had his thigh broken in two places. He was conveyed to the Leeds General Infirmary, and suffered the amputation of his limb, but died in the course of the night. The deceased was in the 62nd year of his age. The other outside passengers were not materially hurt, and those inside escaped without injury.
Newspaper report - 27th November 1827


---
1829 - Unhappy Start to Marriage

Marriage: Lately, at Ripon, Mr. W. Sadler, of Arkendale, to Mrs. Ann Wade, of Easingwold. The bride was 79, and the bridegroom 67 years of age. The courtship was of short duration. They had provided themselves with two gallons of gin and two of brandy, but some waggish relations from Killinghall, during the ceremony at Ripon, extracted the spirits, and filled the casks with pure water, which was not uncovered till the unhappy pair arrived at Easingwold.
Newspaper report - 1st September 1829


---
1832 - Wood for Sale

Wood at Arkendale - to be sold by ticket:
52 Oak trees, 181 Ash ditto, 3 Sycamore ditto, 2 Cherry ditto, 1 Crab ditto, 1 Maple.
Mr William Thompson, of Arkendale, will show the wood, and further particulars may be had on application to Mr W. Collins, Kirkham Bank, Knaresborough, at whose House the Tickets must be delivered before the 1st Day of February next.
Newspaper advert - 5 January 1832


---
1836 - Dilapidated Church

Arkendale Episcopal Chapel - as a conconsequence of the dilapidated state of the chapel of Arkendale, in the parish of Knaresborough, which has proved to have been even in a more dangerous condition than was expected, the whole has been taken down and the foundation stone of the new erection was laid on Thursday, the 10th inst., by the Rev. Thomas Collins, M.A., of Knaresborough.
Newspaper report - 25 June 1836


---
1837 - Consecration of Arkendale Church

NEW CHURCHES - The new chapel recently re-built at Arkendale, near Boroughbridge, was consecrated by the Bishop of Ripon, on Monday week. The bishop, clergy, and other friends were invited to the hospitable mansion of A. Empson, Esq., Spellow Hall; and all returned delighted with the duties and pleasing reflections of the day. A collection, amounting to £17 19s., was made in the chapel by the Rev. T. Collins, Knaresborough, and the Rev, J. Charge, of Copgrove, after the service, towards the funds of the building.
Newspaper report - 27th January 1837


---
1843 - Emigrants

Emigration to America - Numbers of agriculturalists, farm labourers, etc., from the neighbourhood of Arkendale, have, we understand, taken their departure to the "far west", in search of that comfort and prosperity which, by ''stringent laws", is denied them in their native country.
Newspaper report - 13 May 1843


---
1844 - Local Dispute

YORKSHIRE COUNTY COURT - YORK CASTLE - Before C. H. Wilkinson, Esq., County Clerk.
DARBYSHIRE v. DODSWORTH
Mr. E. R. Anderson appeared for the plaintiff, and Mr Hodgson for the defendant. The plaintiff, Mr. Peter Darbyshire, is a wheelright residing at Arkendale, near Knaresborough, and the defendant, Mr. Joseph Dodsworth, is a farmer at the same place. The action was brought to recover the sum of 14s 11d, being the balance of an account between the parties. The plaintiff had supplied the defendant with a set of harness, etc., for which he charged 17s. 10d.; credit had been given for 2s. 11d., leaving the balance above named The plaintiff had shod horses for the defendant, whose son went to the former to borrow a set of harness. The harness was lent, and the plaintiff stated that the defendant might either return it or keep it for 12s. The defendant did not return it, and he had since acknowledged the debt, and promised to discharge it. Witnesses having been called to prove the above facts.
Mr. Hodgson addressed the Jury for the defendant, contending that no debt was owing by his client to the plaintiff. He called witnesses to show that the horse shoes and other articles had been furnished to defendant's son as compensation for work which he had done for the plaintiff, that the latter had taken the harness to a person named Edward Clark, who was lodging with the defendant, in order to be repaired, and that no bargain had been made between the plaintiff and defendant for the sale of it. The harness, it was stated, was now in the defendant's possession merely because the plaintiff had never sent for it, and that he could have it as soon as be thought proper.
Mr. E H. Anderson then replied, submitting that, even with the addition of the evidence of defendant's witnesses, the case of his client had been most clearly proved.
The Jury found a verdict for the plaintiff, damages 14s 11d.
Newspaper report - 7 September 1844


---
1844 - Court Session

KNARESBOROUGH COURT HOUSE - On Wednesday last, the following cases were heard before Joseph Dent and T. Wilkinson, Esqrs. - Isabella Drury, shopkeeper, of Arkendale, for having a number of deficient weights in her possession, was fined 6s., and costs 5s. - John Wilkinson, of Star Beck, carter, for riding and driving without reins, on the Knaresborough and Boroughbridge road, was fined 5s. and 9s. 6d. costs. - John Bramby, a tailor, of Poole, was fined 20s, and costs, for a trespass in pursuit of game, at Wheetan. - Joseph Walker, a stone mason, of Knaresborough, for assaulting Joseph Benson, was ordered to pay a fine of 3s. 6d. and 15s. the expenses.
Two annual feasts have been held in this vicinity during the past week - those of Stavely and Spofforth; but they, like many others which are annually held in this locality, appear to be gradually sinking beneath the hand of time, and the sooner they are consigned to oblivion the better, for the scenes of dissipation and drunken riot, usually attendant on such occasions, are not only a disgrace to society at large, but tend to contaminate the morals of the rising generation whose ideas ought to be heightened by better examples.
Newspaper report - 14 November 1844


---
1848 - Description of Akendale

From: A Topographical Dictionary of England, edited by Samuel Lewis (1848)

ARKENDALE, a chapelry, in the parish of Knaresborough, Lower division of the wapentake of Claro, West Riding of York, 4 miles (N. E.) from Knaresborough; containing 261 inhabitants.

This place comprises 1516a. 2r. 35p., of which more than two-thirds are arable, and the remainder meadow and pasture, with 4½ acres of wood. The soil is partly sand, but mostly clay, producing good crops of wheat, barley, oats, and turnips; the surface is hilly, and picturesque, the higher grounds commanding extensive views.

The village is situated at the distance of a mile from the Boroughbridge and Wetherby, and the Boroughbridge and Knaresborough, roads.

The living is a perpetual curacy, in the patronage of the Vicar of Knaresborough, with a net income of £90: the tithes of the manor were commuted for land, under an inclosure act, in 1773, and a rent-charge of £107 has been lately awarded as a commutation for tithes.

The chapel, dedicated to St. Bartholomew, was rebuilt in 1836, at a cost of about £750, raised by subscription, aided by a grant of £100 from the Incorporated Society; it is a handsome edifice of white brick and stone, in the early English style, with a square embattled tower, and contains 210 sittings, of which 144 are free. A parsonage-house, pleasantly situated on an eminence, was built in 1841. There is a place of worship for Wesleyans.


---
1850 - Child Burnt to Death

On Tuesday last, an inquest was held at Arkendale, on view of the body of an infant named Ann Darbyshire, the daughter of a labourer in the above village. The deceased was sitting in a chair near to which there was a candle burning. Whilst in this position the mother left the house for a few minutes, and on her return she found the child in flames. In her absence the candle had been thrown down by the infant, and the flame of it had caught her clothes. After lingering for two days in great agony, death terminated the child's suffering. Verdict, "Accidentally burnt".
Newspaper report - 2 February 1850


---
1851 - Cricket Match

GREAT OUSEBURN v. ARKENDALE
A game of cricket was played at Great Ouseburn, on Monday last, which terminated in favour of the former by 50 runs. The following is the score:

OUSEBURN
First Innings
Second Innings
Hulock, ct P. Whincup
16
ct J. Whincup
4
Charlton, b Steel
3
b Steel
9
Wrightson, b J. Whincup
6
b Steel
8
T Berry, b Steel
1
b Steel
21
W Berry, b J. Whincup
2
b Steel
1
Daniel, run out
22
b P. Whincup
2
Addison, st Bickerdike
2
b Steel
6
Walker, b Whincup
1
ct Steel
7
Brown, b Steel
3
b Steel
10
Medcalfe, st Bickerdike
not out
0
Hullah, not out
1
st by Bickerdike
0
Byes &c.
11


---

Byes &c.
24


---

Total
68
Total
83
ARKENDALE
First Innings
Second Innings
Steel, ct T. Berry
3
b Wrightson
0
Bickerdike, st Wrightson
0
ct W Berry
7
Stoker, b Wrightson
0
b Addison
2
J. Whincup, b Addison
1
b T Berry
26
T. Whincup, ct T Berry
0
ct Daniel
3
Barker, b Wrightson
2
ct Addison
20
Lorriman, b Addison
1
b Wrightson
0
Richardson, ct Daniel
2
b Daniel
3
P. Whincup, not out
4
not out
15
Hawe, b Wrightson
0
ct Addison
0
Fall, b Addison
0
ct Daniel
0
Byes &c.
6


---

Byes &c.
16


---

Total
19
Total
82

Newspaper report - 27 September 1851

GREAT OUSEBURN v. ARKENDALE - The return match between the above clubs was played on Thursday, 2nd October, upon the Arkendale cricket ground, when the former again proved victorious by seven wickets to fall. Mr Simpson and Mr Gilbertson, of Knaresbro', officiated as umpires. The following is the score - Arkendale, first innings, 44; second ditto, 73; total, 117. Great Ouseburn, first innings, 90; second, 30; total, 120.


---
1855 - Arkendale v. Farnham

A cricket match took place at Arkendale, on Saturday the 20th inst., between two elevens of Arkendale and Farnham. After some good playing on both sides the game terminated in favour of Arkendale. The following is the score first innings, 98. Farnham, first innings, 47; second ditto, 64; total, 101.
Newspaper report - 27 October 1855


---
1856 - Sudden Death

On Monday last, an inquest was held before J. P. Wood, Esq. at Arkendale, on view of the body of John Gill, who was sixty-one years of age, and a farmer's labourer. The deceased was engaged in mowing wheat on Saturday, and he went home at half-past six o'clock in the evening. He was then, to all appearance, quite well, and also when he retired to rest at a quarter past eleven the same night. Soon after six on the following morning, and after he had been conversing with his son, he was suddenly taken ill and died in less than ten minutes afterwards. Mr. Sedgwick, of Boroughbridge, surgeon, had attended the deceased about two years ago for broken ribs, and they ascertained he had a disease of his heart. He thought the deceased had most probably died of disease of the heart. Verdict, "Died by the visitation of God".
Newspaper report - 6 September 1856


---
1858 - Efficacious Doctor

DR LAMB may be consulted Gratis, or by Letter, in all Medical Cases, at Knaresboro', every Wednesday, at Mr. Kirk's', Elephant and Castle Inn.

A CURE OF TAPE WORM, NEAR KNARESBRO'.

Mrs. Bosomworth, aged twenty four, wife of Mr. John Bosomworth, labourer, Arkendale, near Knaresbro'. The patient appears to have been laboring under symptoms of indigestion for the last four years; her appearance was that of one suffering from consumption; her complexion was pale and delicate; the eyes were sunk; the cheeks hollow, with a remarkably melancholy expression. The following were her symptoms: Pain at the pit of the stomach, extending towards the left side; hot, sour eructation to the mouth; the tongue white, furred, and dry, with a disagreeable taste in the mouth in a morning; a very irregular appetite, always felt a want of something at the stomach; almost everything that she ate appeared to disagree with her, digesting with great difficulty, causing much flatulency, and griping pains in the bowels, and great loss of spirits; the least exertion brought on palpitation of the heart, shortness of breath, hot and shooting pains across the chest; headache, giddiness, weight over the eyes, dimness of sight, and pulstating in the temples; coldness in the back, particularly between the shoulders; rheumatic pains and weakness in the arms and legs; restless nights - often startled and sometimes awoke in a fright, unpleasant and frightful dreams, and never felt refreshed on rising in a morning.
The patient has been taking medicine constantly for the last four years, but without obtaining any benefit. Dr. Lamb succeeded the second day that the patient was under his treatment in expelling a worm, 21 feet in length, which may be seen on application to the patient. Parties stating their symptoms by Letter, can have medicine sent to any part of the Kingdom.
Newspaper advertisment - 30 January 1858


---
1859 - Assault by Arkendale Man

George Pawson, farm servant, Arkendale, was summoned for an assault upon Jane Calvert, of that place. The complainant and her husband had had a quarrel a fortnight since, and the following night a number of young men assembled to carry out a custom of "riding the stang". When opposite Calvert's house, she went out, and the defendant struck her on the elbow with a stick, from the effects of which she had since been unable to work. The defendant and his companions treated the matter as a "lark", thinking they were justified in what they did. The Magistrates very properly were of a different opinion, and convicted Pawson in a penalty of 20s. and costs 21s. 6d. He paid the money rather reluctantly, no doubt thinking the "lark" had been rather expensive.
Newspaper report - 24th September 1859


---
1859 - Arkendale Pig Assaulted

WILFUL DAMAGE - At the Court-house, on Wednesday last, Thomas Craven, of Killinghall, was summoned for wilfully damaging a pig, then property of Mr. John Sadler, farmer, Arkendale. It appeared the pig in question, on the 16th August last, went upon the premises occupied by the father of the defendant, and that Thomas Craven, his son, set a dog after it, which, after biting it in several places and running it about for some time, caused its death shortly afterwards. The evidence was somewhat contradictory. Mr. Sadler valued the pig at £2 5s. The defendant was ordered to pay £1 as the damage, and the expenses incurred.
Newspaper report - 24th September 1859


---
1859 - Assault in Arkendale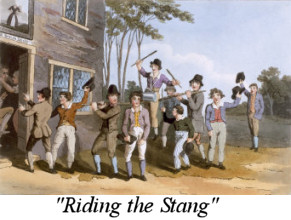 Police Court - The magistrates present on Wednesday were John James Harrison and John Dent, Esqrs. The business was not heavy ....... George Fawcett , farmer's servant, of Arkendale, was charged with assaulting Jane the wife of James Calvert, of that village. The defendant and others, it appeared, had been "riding the stang" for complainant, and when she went to put a stop to the game the defendant struck her with a besom shaft. He was fined £1, and costs £1 1s 6d., which was immediately paid.
Newspaper report - 24 September 1859


---
1862 - 6 months for stealing a pig

WEST RIDING MICHAELMAS INTERMEDIATE SESSIONS - Sir months' imprisonment for George Morrell, stealing a pig, property of Mr. Whincup, Arkendale, Knareshorough.
Report of Court Sessions - 11 December 1862


---
1863 - Fatal Accident for Arkendale boy

On Monday last, an inquest was held at Arkendale, before J.P. Wood, esq., in view of the body of Richard Walls Umpleby, [son of George Umpleby], who was seventeen years of age, and an apprentice to Mr. Mankin, of Minskip, carpenter. On the morning of Sunday, the 8th instant, the deceased was in a pear tree in Mr. Woodward's garth, eight or ten yards from the ground. He called out to a person named Horner that he felt sick, and he then fell to the ground. He was taken into his master's house and Mr. Steele, surgeon, Boroughbridge, was sent for. He found that the deceased had sustained a compound fracture of the right collar bone, and that he had been much bruised in different parts of his body, particularly about the right hip and back. He suffered a great deal of pain and was very weak. The fracture was reduced, and the usual bandage applied. The mother of the deceased removed him home in a spring cart, on which had been placed two feather beds. The deceased's brother had previously intimated to Mr. Steele that they had some thought of removing the youth, when Mr. Steele expressed his amazement and said if they did, he thought it would shake out of the deceased the little life that was left. Having, however, expressed great anxiety to be carried home to die, his wish was complied with. Mr Steele saw him afterwards, and he did not see that the young man was any worse for the removal. He could not say that his life had been shortened by it, although he considered that it was a very injudicious thing to do. The deceased expired on Sunday morning from the effects of the injuries he had received. Verdict, "Accidentally killed, by falling from a tree."
Newspaper report - 17 October 1863


---
1865 - Railway Proposal

NORTH EASTERN RAILWAY (Yorkshire New Lines and Works)

NOTICE is HEREBY GIVEN, that APPLICATION will be made to PARLIAMENT, in the next Session, for an ACT to enable the North-Eastern Railway Company, hereinafter called "The Company", to make and maintain the railways following, with all proper stations, works, conveniences, and approaches connected therewith, that is to say:

A railway commencing in the township and parish of Knaresborugh, in the West Riding of the county of York, by a junction with the York and Knaresborough branch of the North-Eastern Railway at and on the east side of the bridge which carries a road called the Back-lane over that branch, thence passing from, through, into, and in the several parishes, townships, and extra-parochial or other places following, or some of them, that is to say:- Knaresborough, Scriven with Tentergute, Ferrensby, Farnham, Walkingham Hill, Walkingham Hill with Ockany, Ockany, Arkendale, Staveley, Copgrove, Minskip, Aldborough, Roecliffe, Boroughbridge, and Milby in the West Riding, and Kirby on the Moor, Langthorpe, Aldborough and and Milby, in the West and North Ridings of the said county of York, or one of them, and terminating in the township of Milby and parish of Aldborough, in the said West and North Ridings, or one of them, by a junction with the Boroughbridge branch of the North-Eastern Railway, near to the Boroughbridge Station thereof, at a point about 320 yards eastward of the terminus of that branch.
Newspaper report - 22 November 1865


---
1866 - The Cattle Plague

Boroughbridge - A decrease in the cases of the cattle plague during the week in this immediate locality may be observable from the fact that there are very few herds of stock left to be attacked. The fatal rapidity with which it has run through homesteads compels the unfortunate sufferer, in self-defence, to slaughter all animals in any way marketable, hence the rapid decrease of horned cattle in this district. Vaccination has been resorted to very extensively by the holders of the remaining stocks, but the trial is of too short a duration to warrant any definite results. This subtle scourge seems now, in its fickle mood, to be travelling west of Boroughbridge, for having cleared out the rural villages of Myton, Sessay, Sutton, Minskip, Dunsforth, Marton-le-Moor, and the adjacent homesteads. we find that the villages of Arkendale, Brearton. Roecliffe, and Dishforth are now attacked with great severity. At Brearton, Mr. Reynard has four dead and others attacked; Mr. Dickenson and Mr. Green have both been attacked; and Mr James Thackray has lost all his stock. At Roecliffe, Mr. C. Lonsdale has one dead and three attacked. At Arkendale Mr. Thomas Thompson has four dead and three attacked; Mr. Lorriman has six dead and four attacked; and Mr. Lofthouse has one dead and three attacked.
Newspaper report - 3 February 1866


---
1867 - Horse Cruelty

KNARESBOROUGH PETTY SESSIONS - On Wednesday last, before Mr. T. C. Wilkinson, Mr. Lawson, Mr. Harrison, Mr. Briggs. Mr. Greenwood, Mr. P. S. Wilkinson, and Mr. Croft. The police summoned Willey Simpson, of Arkendale; for cruelty to a horse. The defendant was riding a horse in Bond End, Knaresborough, and started off galloping, knowing at the time that a nail was penetrating the animal's foot. He admitted it, and was fined ls. and costs.
Newspaper report - 7 December 1867


---
1870 - A Case of Perjury

At the Harrogate Court-house, on Friday, before Mr. C. Wilkinson, Mr. Briggs, and Mr. Eteson, two young men, named Henry John Bramley, of Hunsingore, and John Worrill, of Roundhay, were brought up on a charge of perjury. The accused were witnesses in an application by Elizabeth Elliott, of Arkendale, against John Hardcastle, the younger, of Hunsingore, for an order in bastardy, heard at the Knaresbro' petty sessions on the 12th of October last, when they both gave evidence for the defendant which, it is alleged, was untrue, and was material in deciding the case in his favour. Mr. Ferns, solicitor, Leeds, appeared for the young men. The inquiry as against Bramley occupied six hours, and the justices adjourned the hearing to the 15th inst.
Newspaper report - 10 December 1870


---
1871 - Property Sale

Arkendale, Near Knaresborough
TO BE SOLD BY AUCTION, by Mr. Charles Sergeant, at the Blue Bell Inn, Arkendale, on Tuesday , the Tenth Day of January , 1871, at Three o'Clock in the Afternoon, in the following or such Lots as may be agreed upon, and subject to the Conditions to be then produced, the following Valuable Property, divided as follows:
LOT 1.
All that Dwelling-House, Barn, Stables, Outbuildings, Orchard, Garden, Garth, and Stackyard; also,

Acres
Roods
Perches
LOW HAZEL HEAD (Arable)
8
2
15
LOT 2.
HIGH HAZEL HEAD (Arable)
6
0
0
LOT 3.
MERE HEAD (Grass)
1
2
5
LOT 4.
MOOR CLOSE (Grass)
2
2
31
LOT 5.
WHITE CROFT (Grass)
5
2
10
LITTLE WHITE CROFT (Arable)
7
3
15
LOT 6.
LITTLE TOFT (Arable)
1
1
13
LOT 7.
HOLGATE CLOSE (Arable)
4
2
21
LOT 8.
FARM HEAD (Grass)
3
1
10

---

41
2
0

---
The above Property, in the occupation of Mr. Baxter, is Freehold, Tithe Free, and of good quality, and is distant about Four Miles from Borobridge and Knaresbro'. The Parochial Rates are low, and the Property affords an opportunity for safe Investment.
Possession may be had at Lady Day next. Mr. Thompson, of the Blue Bell Inn, will show the Property.
Newspaper report - 7 January 1871


---
1872 - Description of Akendale

In 1870-72, John Marius Wilson's Imperial Gazetteer of England and Wales described Arkendale thus:

ARKENDALE, a township-chapelry in the parishes of Knaresborough and Farnham, W. R. Yorkshire; 2¾ miles N of Goldsborough r. station, and 3½ NE of Knaresborough. It has a post office under Knaresborough. Acres, 1,620. Real property, £4,235. Pop., 242. Houses, 47. The property is much subdivided. The living is a p. curacy in the diocese of Ripon. Value, £80.Patron, the Vicar of Knaresborough. The church is modern and good; and there is a Wesleyan chapel.


---
1872 - Death by Drowning

On Tuesday, an inquest was held at the Anchor Inn, Low Dunsforth, before Mr. J. P. coroner, on view of the body of William Mansfield, aged twenty-one, farm-servant to Mr. Joseph Milnesthorpe, of Arkendale. George Hudson, of Arkendale stated that he went in company with the deceased from Arkendale to Low Dunsforth, on Sunday last, and were then going to church, when two young men invited them to go the river Ure, and bathe, which they did. Deceased went into the water and swam half way across, and then came to land. He went in again. and swam round a willow stick, and began to cry for help. There were six of us and we all took hold of hands, but could not reach him on account of the depth of the water. The occurrence was at once reported to the West and North Riding police. P.C. Severs, of Langthorpe, and P.C. Brown, of Boroughbridge, immediately proceeded to the spot with boats, and after a search of two hours, the body was found a short distance from the place where it was seen to go down. The water was ten feet deep. The jury returned a verdict of "Accidentally drowned whilst bathing".
Newspaper report - 24 August 1872


---
1873 - Goods Sale

Arkendale, near Knaresborough. Important to Blacksmiths, Brokers, Farmers, and others. JOHN WOOD begs to announce his instructions from Mr. G. Umpleby, who is leaving the neighbourhood, to Sell by Auction, on Monday February Tenth 1873 at his premises as above, ALL the HOUSEHOLD FURNITURE, Blacksmith's Tools, Farm Produce, Etc. For particulars see posted bills. Sale at twelve o'clock
Newspaper advertisement - 1st February 1873


---
1873 - £15 Robbery

Knaresborough Petty Sessions - On Wednesday a young man, named Joseph Waite, was charged with committing a robbery in the house of Mr. John Potter. The prosecutor is a labouring man, and resides in Arkendale, the prisoner being his wife's nephew. On the previous Wednesday night the prisoner went to Mr. Potter's house, and when he left on Friday morning a purse and £15 in money was missing from a drawer upstairs. On Saturday, prisoner was taken into custody by Detective Officer Stansfield, at a confectioner's shop in Wellington-street, Leeds, to whom he at once admitted the theft, and that he had £7 17s. 5d. in his pockets. Three months' imprisonment.
Newspaper report - 31 July 1873

[Note: Fiona Hodgkiss, a descendant of John Potter, informs us, from her genealogical research, that Joseph Waite would have been around 6 years old at this time!]


---
1874 - Waste Lands in Yorkshire

We are enabled to furnish our readers with the particulars and the situation of waste lands in this county, subject to rights of common and of common field lands in which the tithes have been commuted.
Of the commons apparently capable of cultivation, ...... 5,950 acres were in Arkendale......
Of the apparently mountain or otherwise unsuitable for cultivation, ..... 5,000 acres were in Arkendale......
Newspaper report - 3 September 1874


---
1877 - Illegal Dog

Knaresborough Petty Sessions
Yesterday, Thomas Howard, farm labourer, Arkendale, was charged with keeping a dog without a licence, and was fined 25s.
Newspaper report - 4 January 1877


---
1877 - Arkendale Village Library Joins the Union of Mechanics' Institutes

At the 40th Annual Meeting of the Yorkshire Union of Mechanics' Institutes, in Bradford, Arkendale Village Library was among 37 organisations elected to the Union.
Lord F. CAVENDISH, M.P., remarked that during five years the growth of the Union had been from 109 to 201, and he was glad that the number was to be still further added to, he having to move that thirty-seven institutes be admitted into the Union. That list deserved a moment's study, for though it-did not contain the names of any large towns or any of the larger industrial villages, for the very good reason that the Union already comprised institutes belonging to all those places, it was largely composed of village institutions. It was to his mind most eminently satisfactory, far above all it was on institutions of that kind that the Union could confer the greatest benefit. Large towns, with the variety of energy which, they contained, might be well able to have their institutions standing on their own merits, but the village institutes did not occupy the same position, and to them the accumulated stores of useful experiences which were at the command of the Union were an invaluable benefit. Therefore, they would cordially receive those thirty-seven institutes that were knocking at their door. He moved that those institutions be admitted.
In the list was included the following local institutions: St. Simonds Mutual Improvement (Leeds); Liverton Mines (Cleveland) Mutual Improvement Society; New Marske Miners' Institute; Skinningrove Miners' Institute; Guisbrough Mechanics' Institute; Yarm Mechanics' Institute; Knaresbrough Literary Institute; Pease's West (Durham) Miners' Institute; Middleton Tyas Reading Room; Hopetown (Normanton) Young Men's Association; Harrogate Literary Society; Oarthorpe (Bedale) Village Library; Howden-le-Wear (Durham) British Workman; Bubwith Reading Room; Loftus-in-Cleveland Literary Institute; Monk Fryston Mechanics' Institute; Arkendale (Knaresbro') Village Library; Skelton (Cleveland) Literary Club.
Newspaper report - 24 May 1877


---
1877 - Yorkshire Rambles - extract from a report of a "ramble" from Knaresborough to Ripon

After a few hours agreeably spent in Knaresborough, we went by lovely Scriven, on to Ferrensby, where we turned off into Arkendale, and by Marton-cum-Grafton to Aldborough. This is a roundabout route, but our object was to see the country and the people, and it was attained. The road rises with a gradual ascent, opening out prospects extending over the Forest of Knaresborough to the west, and northward to the hills that bound the Valley of the Ure. The intervening country is well-wooded and highly cultivated, bearing crops of grain and roots, the wheat thin and in ear, but level as a bowling-green, the beans luxuriant and healthful, the hay grass a heavy crop, but the orchards most unpromising, and in some instances, especially in regard to plums, almost a total failure. The hedges were a grand show, thickly embroidered with wild roses and honeysuckles. The antirrhinums, or snap dragons, the sweet peas, the dahlias, cultivated roses and other flowers bloomed in the gardens in the greatest profusion, the colour of the blooms being exceedingly brilliant., In the fields, one in particular, the tall bearded barley, flowering lentils, and the red poppy, mingled their colours in a tangle of singular grace; the next field was dotted with white clover in bloom, and of these clover fields the perfume may fitly be described as delicious. In the moist ditches the "meadow sweet" exhaled its powerful odour, while the pink and white campion, the flowering dead nettles, the blue germander, and other wild favourites, mingled their colours among the prolific greenery, shaded by hedges of wild roses, honeysuckles, and the blackberry in bloom. Arkendale, to the extent of 1,500 acres, belongs to a family who will not make any improvements. There is a great want of drainage, the farmers are tenants at will, and consequently the farming is of a poorer character than can seen in districts not far off, where the owners are willing to grant leases to their tenants and to improve their property. Arkendale Church is a small building erected of light-coloured brick, has a square tower, is placed on an eminence, and can be seen some distance away. The road still rising, an elevation is gained at Marton-lane commanding a wide sweep of country, from Ripon and the eminences on the north to the hills trending away to Brimham, to.Simon's Seat, over the vale of York to the south, and in the east the Wolds and the Hambletons hem in the fertile country at their base. Distant thunder was heard in the south, dark banks of black clouds swept up from that quarter, but to the west and north, over the district above described, the sun shone brilliantly, lighting up every object, and with the aid of a glass more places could be made out than readers would care to have minutely described. It was three in the afternoon. The heat was oppressive, the wind came in hot puffs, and the brilliancy of the sun-lit prospect was enhanced by the threatening clouds that appeared to be closing in on every side but to the west. Suddenly a blaze of lightning zig-zagged in the northern sky, the wind blew cold and angry, the thunder pealed, down came the storm with terrific force, blinding rain, and hailstones as large as peas. Trees bent to the fierce blast, the lightning flashed, the thunder pealed, now like the bang of big guns, and then with a rattle resembling; the firing of a platoon of infantry, while it was so cold that we shivered with the sudden change from a tropical-like heat. Crouching under the welcome shelter of a thick hedge, an umbrella was a poor protection from such a wild storm which raged and roared for a full half hour, while from our .vantage-ground we could watch, the play of the elements over the wide sweep of country to the westward, and realize the grandeur, the power, and the majesty of all the mighty forces that were at work. The storm cleared as quickly as it came, almost instantaneously the sun burst out, lighting up the country westwardly. Ass the lightning flashed less brightly, the thunder growling as it travelled away, the sky overhead became blue, the larks sprang caroling up to the heavens as if gleeful that the storm was gone, and a cuckoo tried a call, but it was only faint. This was on the 7th July. Said an intelligent farm-labourer who sheltered near us, alluding to the cuckoo, "I thought she was gone, I'se thinking that's the last we shall hear of her this year". Passing forward to Marton-cum-Grafton, we pause In the Punch Bowl Inn, where the landlady's son, engaged as a decorator at Castle Howard, has painted her a swinging signboard that shows his manipulative powers are above the ordinary caliber of a house painter.
Newspaper report - 20th July 1877


---
1878 - Sale of Property

MESSRS. SERGEANT SONS will SELL by AUCTION, at the ELEPHANT and CASTLE HOTEL, in Knaresbrough, on FRIDAY, the 26th day of JULY, 1878, at 5 for 6 o'clock precisely, in the undermentioned or such other Lots as may be agreed upon at the time of Sale, and subject to conditions which will be then read,
All that HOMESTEAD and GARTH, and all those several CLOSES of excellent LAND, situated in the township of Arkendale, in the County of York, late belonging to Mr. Edward Lorrimcr, deceased, and known by the several names, and containing the respective quantities following (more or less), namely:

Acres
Roods
Perches
LOT 1.
House, Farm Buildings, and Garth
1
3
33
LOT 2.
Muer Close (Grass)
3
2
16
Harry Dough Close (Grass)
1
2
17
LOT 3.
Low Hollins Close (Clover)
11
0
28
High Hollins Close (Oats)
5
3
32
LOT 4.
Sockerdale Close (Oats)
8
1
21
LOT 5.
Holme Close (Clover)
2
1
35
LOT 6.
Wye Carr Close (Oats and Grass)
4
2
13
LOT 7.
Hill Field (Grass)
3
3
31
LOT 8.
Wheat Croft (Barley and Grass)
3
1
20
Wheat Croft (Wheat)
6
2
22

---

53
2
33

---
Lot 1 is Copyhold of the Manor of Beechill, and is subject to the payment of a Lord's rent of 4s. 8d. per annum, and of 2s. 1d. per annum to the Ecclesiastical Commissioners. The other lots are partly Freehold and partly Copyhold of the Manor of Arkendale. The Property being in hand early possession can be given if required. To view the land apply to Mr. EDWARD LORRIMER, Arkendale; and further particulars may be had of the Auctioneers.
Newspaper report - 29 June 1878


---
1878 - Sale of Stock

Important Sale of Farming Stock, Implements, Straw, Clover, Growing Crops, Surplus Household Furniture, &c.
MESSRS. SERGEANT and SONS are favoured with instructions from the Execuors of the late Mr. E. LORRIMER, to SELL by AUCTION, upon the Premises at Arkendale aforesaid, on MONDAY, August 12th, the following very excellent FARMING STOCK:

HORSES.
Very superior Chesnut Cart Mare, Star, 6 years old, with colt foal at foot by Luck's All; powerful Chesnut Cart Mare, 4 years old, by the Wharfedale Conqueror. (These mares have great size, power, and substance, and are suitable for town purposes.) Chesnut Filly, 2 years old, by Wharfedale Conqueror; Chesnut Yearling Filly, by Cornet, out of a coaching mare.

BEASTS.
Cow in milk, Fat Cow, 2 Fat Heifers, 3 prime Roan Yearling Heifers.

FORTY HEAD OF POULTRY.
IMPLEMENTS.
HOUSEHOLD FURNITURE.
DAIRY UTENSILS.
GROWING CROPS.

Acres
Roods
Perches
Far Spliting Field, Wheat
9
3
10
Part of Umpleby Field, Barley
3
3
0
Part of Umpleby Field, Barley
2
0
10
Hill Field, Barley
3
3
0
Baxter Field, Barley
3
0
21
West Field, Barley
13
3
35
High Hollings Field, Oats
5
3
32
Sockerdale Field, Oats
5
1
21
Wye Carr Field, Oats
4
2
13
Wheat Croft Field, Barley
3
1
20
Wheat Croft Field, Wheat
6
2
23

---

61
2
27

---

The above will be sold subject to measurement, the straw to be taken away.
HAY. CLOVER, and STRAW.
Core of Old Hay, Stack of Clover the produce of 11 acres, small Clover Stack, 2 Stacks of Wheat Straw tied up.
MANURE.
Heap of Manure in Fold Yard; Ditto in Sockerdale Close.
Sale to commence at TWELVE for ONE prompt. The Crops will be sold at Six o'clock.
Newspaper report - 3 August 1878


---
1881 - Moving Cattle

Knaresborough Petty Sessions
John Smith, of Knaresbro', for moving cattle without a license, was fined 6d, with costs 8s. 6d, and for a similar offence Marmaduke Lorrimer, of Arkendale, paid a fine of 2s. 6d. and costs, 3s. Both parties stated they acted in ignorance of the regulations.
John Thompson, of the Blue Bell, Arkendale, for being drunk on his licensed premises, was fined 10s and costs.
Newspaper report - 10 February 1881


---
1881 - Machinery

STEAM THRESHING MACHINE for sale. 10 h.p. engine by Rustin and Proctor. Double Blast Finishing Machine by Marshall, Sons & Co. Apply Thomas Kettlewell, Arkendale.
Newspaper advert - 30 April 1881


---
1881 - Not Guilty!

UNFOUNDED CHARGE OF FELONY AGAINST A FARMER - At the Knaresborough Petty Sessions yesterday, Thomas Swale, of Arkendale, farmer, was charged with having robbed a cattle dealer, named Muschamp, of three £5 notes and £2 in gold, at a public-house at Minskip. Mr Bateson, of Harrogate, appeared for the defence. After hearing the evidence and cross-examination of the prosecutor and of two witnesses called for the defence, Mr Brown, chairman of the Bench, said he believed it was a shameful case for the prosecutor to bring; and the defendant left the court an innocent man.
Newspaper report - 14th July 1881


---
1881 - Poaching

Knaresborough Petty Sessions
Yesterday Enoch Thompson, Joseph Howard, and George Bruce, of Arkendale, were summoned for a game trespass. A hare was found in Brace's pocket. Defendants were discharged on paying 6s. 6d. each, and cautioned.
Newspaper report - 1 September 1881


---
1881 - Not at School

Knaresborough Petty Sessions
Yesterday, Mr Woodward, attendance officer, Great Ouseburn, summoned Francis Hawkswell, of Marton; John Birkhill, of Arkendale; and George Grayson, of Whixley, for not sending their children to school, and they were each fined 5s..
Newspaper report - 17 November 1881


---
1882 - Selling Up

LOCAL LIQUIDATIONS - We understand that a petition has been filed by Messrs. Bateson and Hutchinson on behalf of Thomas Kettlewell, Arkendale, and of Great Ouseburn, farmer; also, that another petition has been filed by the same firm on behalf of William Holmes, of Knaresboro', hay and straw dealer.
Newspaper report - 28 January 1882


---
1882 - Sale of Arkendale Manor

Arkendale, Yorkshire. Half-way between Knaresborough and Boroughbridge. Preliminary Notice. ARKENDALE ESTATE (the property of Morton Eden, Esq.) will, unless previously disposed of by private treaty (of which due notice will be given), be offered for Sale by Public Auction, by Messrs. CUNDY and SONS, Leeds and Wetherby, in July or August next. Estate comprises nine principal Farms and eleven smaller Holdings (including almost the whole of the township, with the Manor of Arkendale), and contains about 320 acres of grass land, 610 acres of arable land, and 5 acres of woodlands, making a total of about 1,055 acres. The shooting is in the hands.of the landlord. The rent-roll is some £1,800 per annum net. Further particulars will be given in future advertisements.

.... click here for the full sale prospectus

Newspaper advertisement - 24th June 1882

A very important and desirable Freehold Agricultural and Sporting Estate, known as the ARKENDALE ESTATE, Comprising almost the entire township and village of Arkendale, and a portion of the township of Minskip, all in the northern division of the West Riding of Yorkshire, and situate 4 miles from Knaresboro', 3 miles from Boroughbridge, 1 mile from Copgrove, and 2 miles from Goldsbro' stations.
Comprising an area of about 1,080 acres of excellent arable and grass land, forming one compact estate within a ring fence, subdivided into the following Farms, with suitable Homesteads: MANOR HOUSE FARM, 157 acres; HOLGATE BANK FARM, 111 acres; BROOM HOUSE FARM, 107 acres; FORMS HOUSE FARM, 152 acres; also the Blue Bells Public House and farm, 54 acres; together with several other Farms, varying from 10 to 100 acres; producing a net rental of £1,778 17s. 6d. per annum, exclusive of the woodlands in hand; also the Manorial Rights of Arkendale, with all its copyhold dues and fines.
The estate embraces good partridge and cover shooting, and is in the centre of the York and Ainsty, the Bedale, and the Bramham Moor Foxhounds.
The property is well roaded, watered, and timbered.
MESSRS. CUNDY & SONS will SELL the above ESTATE by AUCTION, at, the Station Hotel, York, on SATURDAY, the 5th day of August, 1882, at 2 o'clock precisely, in one lot.
Newspaper advertisement - 15 July 1882

£35,000 was the first bid for the whole estate, which afterwards rose to £38,000, which sum not reaching the reserve the property was withdrawn.
Newspaper report - 7 August 1882

The Valuable and Important Agricultural and Sporting Estate, known as Arkendale, embracing the township and village of Arkendale and part of the township of Minskip, and comprising about 1,056 acres, producing a net rental of £1778 17s. 6d. per annum, exclusive of the woodlands in hand, also the manorial rights of Arkendale. The estate comprises nine principal farms, fully licensed public-house, together with the village of Arkendale. The estate is tithe-free and land-tax redeemed; the farm lands are well intersected with roads, and the estate is well timbered and watered. This important property will be offered by Auction, upon an early date, in numerous lots arranged for the convenience of purchasers (unless previously disposed of as a whole by private contract). Mr. John Bradley, the Blue Bell Inn, Arkendale, will show the lands.
Newspaper advertisement - 3rd March 1883

The Manor of Arkendale, three miles from Knaresborough, with nine farms and various small holdings, lately belonging to Sir William Eden, has been purchased by Mr Joseph Nussey of Leeds.
Newspaper advertisement - 19th March 1883


---
1882 - Pilfering Wood

Knaresborough Petty Sessions, Wednesday.
Yesterday, George Milthorpe, Joseph Howard, Mary Ann Bruce, Enoch Thompson, and John Haw, of Arkendale, were summoned for damaging the property or Sir Wm. Eden. The defendants had carried away a quantity of wood from a house partly in ruins at Arkendale. They were discharged on paying costs, 5s. each.
Newspaper report - 7 December 1882


---
1883 - Case adjourned

Knaresborough Petty Sessions.
Yesterday, Joseph Birkhill, of Arkendale, was charged with cutting and wounding John Henry Addamson. Mr Bateson said the prosecutor was not able to appear and the case was adjourned a fortnight, the Bench granting bail for the prisoner on the application of Mr A. W. Gilling, who appeared for the defence.
Newspaper report - 1 March 1883


---
1883 - Spadeful of Trouble

Knaresborough Petty Sessions, Wednesday.
Thomas Nicholson, of Arkendale, was charged with wilful damage to a spade, the property of Sarah Thompson. Mr. A. M. Gilling defended. Penalty 1s., damage 4s., and costs 14s.
Newspaper report - 17 November 1883


---
1883 - Refusing to Leave

Knaresborough Petty Sessions,.
Yesterday, Thomas Calvert, of Grafton, Peter Thompson, and Thomas Nicholson, of Arkendale were summoned for refusing to quit the house of John Bradley, Innkeeper, Arkendale. Mr. Byron defended Thompson and Nicholson. Penalty on each, 5s, and costs 10s.
Newspaper report - 27 December 1883


---
1884 - Foot and Mouth

FOOT AND MOUTH DISEASE - Yesterday, the following places were declared infected: Mr. F. B. Caudall, Thorpe Under-woods; Mr. Robert Lumley, Gibbet House; Mr. Richard Sadler, Starbeck; Mr. Benjamin Dearloye, Killinghall; Mr. John Burnett, Pannal; Mr. Thomas Ingledew, Roecliffe; Mr. Thomas Ingldew, Copgrove; Mr. James Topham, Roecliffe.
Places declared free: Mr. John Lorrimer, Arkendale; Mr. Henry Metcalfe, Green Hammerton; Anthony Petty, Dacre Banks; Mr. William Groves, Dacre Banks ; Mr. Hardisty Metcalfe, Starbeck-lane; Mr. Thomas Burton, Scriven; Mr. R. P. Crowe, Ornhams; Mr. Jacob Smith, Humbarton; Mr. Martin Waddington, Staveley; Mr. Samuel McErlean, Knaresbro'; Mr. James Cass, Ribston.
Newspaper report - 3 January 1884


---
1884 - Farm Sale

TO LET OR SELL, HOLLINGS HOUSE FARM, in the parish of Arkendale in the county of York, and five miles from Knaresborough. Containing 21 acres of grass and arable land, with convenient house premises; to be entered on immediately. Amply Mr. Waite, 6, Frederick street, Bradford; or to Mr. J. Taylor, Ferrensby Grange, near Knaresborough.
Newspaper advertisement - 11th January 1884


---
1884 - Property to Let

Arkendale - To be LET, until 6th April, 1885, about 40 acres GRASS LAND, good Home, and Stabling, situated 1½ miles from Copgrove Station, on Boroughbridge and Knaresboro' Line, and 2 miles from Goldsbro' Station on York and Harrogate Llne. Apply Mr. J. Kirk, Clareton House, near Knaresbro'; and to view to Mr B. Steele, Arkendale, near Knareabro%
Newspaper advertisement - 22 May 1884


---
1884 - Kitten Cruelty

Knaresborough Petty Sessions, Wednesday.
Mr. Lucas, Inspector, Royal Society, charged James Riley, of Arkendale, with cruelty to a cat. Defendant was at the village inn on Saturday, and because the landlady refused to supply him with beer he knocked a kitten against the fender, from which it died. Fined 1s. and costs, 19s. 6d., or fourteen days.
Newspaper report - 7 June 1884


---
1884 - Cricket

Marton v. Arkendale, played at Arkendale on Monday. Score: Marton 55, Arkendale, 28.
Newspaper report - 1 July 1884


---
1884 - Property to Let

FARMS to LET on the Arkendale Estate, near Knaresborough, Copgrove and Boroughbridge Stations. N.E. containing respectively 100 Acres (about half Grass) and 86 Acres, also an INN and 50 Acres, all good land.
Newspaper advertisement - 20 December 1884


---
1885 - Traffic Accident

FATAL ACCIDENT AT HARROGATE - On Sunday night James Hudson, of Arkendale near Boroughbridge, died in the Harrogate Cottage Hospital from injuries received by being run over in High Harrogate on Friday.
Newspaper report - 31st March 1885

SAD DEATH OF A FARMER - James Hudson, aged 57 years, farmer, of Arkendale, near Boroughbridge, died on Sunday night from injuries received at an accident. It appears that at about half-past three on the afternoon of Friday the deceased was sitting on the shafts of a cart in High Harrogate. The horse took fright, the deceased fell to the ground, and the cart passed over his body. He was conveyed to the Cottage Hospital, and attended to by Dr. Williams up to the time of his death. Mr Henry Wood, Coroner, held an inquest on Monday night.
Newspaper report - 31st March 1885

FATAL ACCIDENT AT HARROGATE - On Wednesday an inquest was held at the North-Eastern Hotel, Harrogate, before Mr Henry Wood, Coroner for the district, on view of the body of James Hudson, farmer, of Arkendale, near Harrogate, aged 57 years, who died at the Cottage Hospital on Sunday night from injuries received on Friday by the wheel of a cart passing over his stomach and abdomen. The horse took fright at a number of workmen's dinner basses and coats being hung on tree guards by the roadside. Verdict, "Accidental death", in accordance with the medical testimony.
Newspaper report - 2nd April 1885


---
1886 - Farm dispute

KNARESBOROUGH CROWN COURT - On Tuesday, Judge Turner held his usual Court.
Gill v. Nussey - Mr. Banks, barrister (instructed by Mr. Coates, of Wetherby) appeared for plaintiff, and Mr. Addyman, of Leeds, for defendant. Plaintiff became tenant of a farm at Arkendale seven years since, and defendant became the owner two years ago. Some time since Gill was asked to sign an agreement, which he declined doing. as it was contrary to the usual terms upon which the Arkendale farms were rented. On giving up the farm plaintiff claimed the value of his off-going crop, for fixtures paid for his entry, and it was urged a sale of plainfiff's hay and straw was injured by notice served on the auctioneer that they were not to be sold off the premises. A loss was sustained, altogether making total claim of £32 6s. A counter claim was put in of £30 9s. for damages. Verdict for plaintiff for 40s., and for defendant for £24 3s., with costs.
Newspaper report - 2 January 1886


---
1886 - Death of Farmer

Mr S. H. Turner held an inquest at the Blue Bell Inn, Arkendale, on Monday, concerning the death of Mr Richard Kingham, farmer. Deceased, who was aged 47 years, had apparently enjoyed good health, but lately had suffered from a cough, and pain at his heart. He was busily engaged on his farm on Friday afternoon, and about half-past four his little son went into the fold yard and found him lying on the ground. He at once fetched hts mother, who, on examining the deceased, found him to be quite dead. Dr Renton, of Knaresborough, considered death to be due to heart disease, and a verdict accordingly was returned.
Newspaper report - 29 December 1886


---
1887 - Sale of Crops

MESSRS HEWSON & SON are instructed by Joseph Hussey. Esq.,to SELL by AUCTION, on TUESDAY, MARCH 10th, at Hollins Farm, Arkendale, the whole of HAY and STRAW, comprising about 250 yards of clover, in two stacks; 15 to 16 tons of WHEAT and OAT STRAW in stacks of various sizes, to be taken off; also small FARMING IMPLEMENTS. Arkendale is 1 mile from Copgrove station, and 2½ from Goldsboro' Station. Sale at 3.
Newspaper report - 8 March 1887


---
1887 - Sale of Goods

Sale of Household Furniture, Dairy Utensils &c., by Mr Edward Wilkinson, at the Blue Bell Inn, Arkendale, at 1.
Newspaper report - 2 June 1887


---
1887 - Sale of Farm Stock

MESSRS THOMLINSON AND STEPHENSON are instructed by Mr. James W. Beal to Sell by AUCTION, on his Premises, on FRIDAY JULY 1st 1887, the following Live and Dead FARM STOCK. viz.
Three Cart Horses, 11 Beasts, 3 Pigs, and 20 Head of Poultry. Farm Implements and Gears, Tools, &c., also, EATAGE of 20 Acres Grass Lands up to Lady-day next. Sale ONE o'clock.
Newspaper report - 1 July 1887


---
1887 - Unpaid Work

Knaresborough Petty Sessions
Yesterday, a charge preferred by Thomas Elliott against James Beal, of Arkendale, was supported by Mr. A. W. Gilling. Complainant was engaged to harvest-work for a month, at £1 per week wages and his meat, and completed his contract, but was unable to get his money. Defendant admitted the claim, his only excuse for non-payment being that his landlord had promised to pay it out of money in hand. An order was made for payment in a week of £4 and costs.
Newspaper report - 6 October 1887


---
1887 - Suspicious evidence

Yorkshire Assizes, York Castle, Saturday - (Before Lord Chief Justice Coleridge)
John Johnson (on bail) was charged with having on the 24th July last committed a criminal assault upon Emma Steel, a girl under the age of 18, at Arkendale. Mr. Kershaw prosecuted and Mr. Mellor defended. The girl's father and the prisoner are farmers, living near to each other. The prisoner was on visiting terms and almost daily in Steel's house. The girl was called and stated that she had been seduced by the prisoner and that she had given birth to a child. Acting on the advice of the prisoner she left her father's home and went to live at Leeds, where she was confined prematurely and the prisoner gave her money to pay the expenses of the funeral. She remained there nine weeks and afterwards went to her brother's house at Ilkley and from there she returned home. A question arose as to the age of the girl at the time of the alleged offence. She said she was 16 years of age on the 2nd of August - a few days after the offence was alleged to have been committed. The girl's father and mother both stated that she was not 16 until the month of August. James Steel, the father, stated that the registrar went to their house and registered the birth, but Charlotte, the girl's mother, deposed that she walked to Boroughbridge within the limited six weeks of the birth and registered the birth. Seeing that the birth was registered the day after the event took place his Lordship congratulated Mrs. Steel on having so rapidly regained her strength as to undertake a four miles walk the following day. The family Bible was produced and his Lordship, upon examining the entry with a magnifying glass, said it was clear that the entry of the girl Emma's birth had first been 1870 and afterwards altered to 1871. Mr Mellor, in cross-examining the girl Emma, read the following letter, which was written in pencil:
"Johnson, keep your heart up and don't talk about being locked up. You are not yet and you won't be if I can help it. It's good enough to see you have something on your mind, and I have something on mine, but I will do my best for you. I have done wrong, but they have not got all out of me yet. You get John Johnson (another man of the same name as the prisoner) to say about him saying he would shoot me. You tell them to say you were not guilty. Say I have been with somebody else, say Jim Reiley. I will say so if you do tell them. I wanted to be away for what my father promised to do at me, but you must get John Johnson to swear it if you can as well. He has said it. But don't tell Thompson or Shepherd anything about it, or me giving you this either. It you do they will tell somebody and these will get to know. You say something else. Get Johnson to swear that if you can".
In cross-examincioa she admitted that she knew the other John Johnson and Thompson and Shepherd, but she positively denied that she had written that note, that she had given it to the prisoner, or that she had wrapped it in a piece of cloth and thrown it across the road to him. She swore positively she did not know how the note got into the prisoner's possession. Mr Kershaw said after looking at the entry in the family Bible and bearing the evidence that had been given he was obliged to admit that the case was surrounded with suspicion. His Lordship addressing the jury said if the prisoner's misconduct had brought him under the law they would not find him reluctant to punish him. The law said that the offence with which the prisoner was charged was to cease when the girl was 16 years of age, and therefore if the girl was 16 there was no offence or crime. Considering the suspicious character of the evidence his Lordship directed the jury to acquit the prisoner. The jury returned a verdict of not guilty and his Lordship in discharging him warned him that he had had a very narrow escape.
Newspaper report - 14 November 1887


---
1888 - Straying horses

Knaresborough Petty Sessions
On Wednesday last, The police summoned John Johnson, of Arkendale, farmer, for allowing his horses to stray on the highway, and was ordered to pay 8s. 6d. costs.
Newspaper report - 14 January 1888


---
1888 - Sale of Land

MR GEORGE HEWSON will SELL by AUCTION (under powers of Sale contained in a Mortgage Deed), at the BLUE BELL, Arkendale, near Knaresborough, on TUESDAY, the 24th day of APRIL, 1888, at 3 o'clock in the Afternoon, and subject to such Conditions of Sale as shall be then produced:
LOT 1. that CLOSE of very superior ARABLE LAND, known by the name of West Field, containing 13 Acres, be the same more or less, situated at Arkendale, in the County of York, and lately in the occupation of Mr. John Lazenby Lorrimer.
LOT 2. All that CLOSE of excellent ARABLE LAND. called Socker Hills, containing 8 Acres, be the same more or less, situated at Arkendale aforesaid, and lately in the occupation of the said John Lazenby Lorrimer.
For further particulars apply to the auctioneer, Knaresborough, or at the Offices of WALLACE GILL, Solicitor, Knaresborough.
Newspaper report - 7 April 1888


---
1888 - Whitsuntide Holidays

The citizens of York thoroughly enjoyed Whit Monday. The large works and principal places of business were closed, and the thoroughfares wore a holiday aspect. The weather was charming, and the invitations to al-fresco delight irresistible. A lot of people set off on jaunts into the country, many more took to boating, many to cycling, and not a few others to piscatorial pursuits. The youngsters in hundreds greatly enjoying themselves in the Museum Gardens - which were open to the public from 10 a.m. to 4 p.m. -and many elders watched their gambols with much satisfaction. There were one or two roundabouts, swing-boats, and shooting galleries, and an improvised switchback railway in Parliament-street. but the fair was not what it used to be - to employ a colloquial expression.
Yesterday the "Farmer's Glory" Lodge of the Oddfellows at Boroughbridge celebrated their fiftieth anniversary in a most successful manner, in beautiful weather, and in the presence of a large gathering of people from the villages of the surrounding district. During the forenoon the members mustered in strong force at the Lodge-room, and from there formed in processional order, and, preceded by the Band of the Knaresborough Rifle Volunteers, under Bandmaster Manley, made a tour of the surrounding villages of Ferrensby, Arkendale &c. On returning to Staveley they proceeded to the village church, where a special service was held, conducted by the rector, the Rev. E. P. Knubley.
Newspaper report - 22 May 1888


---
1888 - Dirty Water

THE RURAL SANITARY AUTHORITY - Mr. R. Paver-Crow presided at the monthly meeting on Monday, at Great Ouseburn. Dr. Thompson reported a case of typhoid fever at Little Ouseburn, owing to water being used for drinking purposes from a polluted well, which was ordered to he closed for drinking purposes some months ago. Despite the warnings of the authority's officers, people persisted in using the well. After discussion, it was resolved to take proceedings at once to have the well closed.
The Sanitary Inspector reported that the water from a well at the village inn, Arkendale, was in a very dirty state, and he was ordered to give the owner of the same instructions to remedy the same.
Newspaper report - 29 September 1888

THE RURAL SANITARY AUTHORITY - Mr. R. Paver-Crow presided at the monthly meeting yesterday. The Sanitary inspector reported that at Arkendale Mr. J. Nussey had laid a new drain but had not procured a new water supply as requested. The Clerk read a letter from Mr. Nussey's agent with regard to the matter, which stated that a sufficient supply of water was to be had within a reasonable distance, and that he had spared no expense to discover the reason of the water being polluted in his well, but had not yet arrived at the cause. After discussion it was resolved to write Mr. Nussey and state that the authority hoped he would have the water analysed and report to the Board within two months.
Newspaper report - 23 October 1888


---
1888 - Wages complaint

Knaresborough Petty Sessions
Yesterday, Mr. A. W. Gilling supported a complaint preferred by Joseph Darbyshire against John Johnson, of Arkendale; for £7 16s., wages for harvest work, towards which he had received £2 17s. 4d., but defendant refused to pay the balance. The Bench ordered payment of the amount due and £1 5s. 6d. costs.
Newspaper report - 8 November 1888


---
1889 - Buried in a Drain

On Friday week a man named W. Hill, of Arkendale, employed in a main drain now being laid to the Ripon Grammar School, was buried by a fall of earth at a depth of 11 feet. He was extricated as quickly as possible and conveyed to the Cottage Hospital, where he was attended by Dr. Green. It was found that he had sustained a fracture of the left collar bone, and that he was much shaken and bruised.
Newspaper report - 22 June 1889


---
1891 - Conservative Lecture

Mr. Bottomley, of Doncaster, was announced to deliver a lecture at the village of Arkendale on Thursday, but being unable to be present, a substitute, Mr. Mills, Conservative agent for the Skipton Division attended and delivered a most interesting address in the schoolroom. The chair was occupied by Mr. S. J. Brown, of Loftus Hill. The lecturer spoke at some length on the political condition of Ireland, and answered several questions put to him by Mr. Marshall, the Liberal agent for the district.
Newspaper report - 7 February 1891


---
1892 - Local Will

Probate of the will dated 7th April, 1888, with a codicil made the 18th April, 1889, of the late Mr. Joseph Nussey, of Stray View, Harrogate, who died on the 24th October last, leaving in personal estate £63,900, has been granted to the executors, his sons James Hargreave Nussey and Thomas Henry Nussey, to the former of whom the testator devises the Arkendale estate, and Fawcett House estate, upon condition that he pays £11,000 to Mr Thos. Hy. Nussey, and he leaves all other his real estate, all his leasehold estate, his share and interest in the partnership assets of the Farnley Low Mill, and £8,000 to his said son Thomas Henry. Mr. Nussey bequeaths £2,000 each to his two grandchildren, £150 and the income for her life of a sum of £3,000 to his housekeepr Elizabeth Troughton, and £30 to the Unmarried Women's Benevolent Association. He leaves the residue of his property in equal shares to his two sons.
Newspaper report - March 11 1892


---
1893 - Wandering horse

Knaresborough Petty Sessions
Enoch Thompson, of Arkendale was fined 5s. for allowing his horse to stray on the highway.
Newspaper report - 31 August 1893


---
1895 - Job wanted

BOOTS Wants situation as Under or Single-handed; age 20, good references. Midgeley, Arkendale, Knaresborough.
Newspaper advert - 16 January 1895


---
1895 - Concert

On Friday evening a concert was given in the School-room, Arkendale, in aid of the School funds. A capital programme was gone through, in which the following ladies and gentlemen took part. Miss G. Page, R.A.M., Bedford; Miss Potter, Leeds; Miss Wilson, Arkendale; Miss Webster, Kirkstall; Rev. W. J. Dickenson, Leeds; Mr. C. Manston, Hull; Mr. A. H. Lunn, Marton-cum-Grafton; Mr. J. Wilson, Arkendale. Newspaper report - 21 January 1895


---
1896 - School attendance

Knaresborough Petty Sessions, Wednesday.
Mr. Fean, attendance officer, Great Ouseburn Union, summoned Aaron Midgley, of Arkendale, and Geo. Benson, of Marton, who were each fined 2s, and costs, 3s., for not sending their children to school.
Newspaper report - 27 February 1896


---
1899 - School entertainment

On Friday night the children attending the Arkendale Day School gave an entertainment consisting of song, recitations, etc., before a good audience. A long programme was gone through in a very creditable manner, and gave evidence of careful training by Mr. Fell. "The Wild Man from Borneo", sung by F. Herrington; "Old Folks at Home", by F. Joplin, were very successful items. The Rev. F. R Crankshaw presided, and addressed the parents on "School Attendance".
Newspaper report - 30 January 1899


---
1899 - Furious Driving

Knaresborough Petty Sessions, Wednesday.
The police summoned Edward Richardson, pig dealer, Arkendale, for furious driving. Defendant was passing down High-street, Knaresborough, with a conveyance, and knocked down a man named John Hollins, who was injured in the head, and the wheels of the trap went over his legs. Defendant had paid Hollins £1 for loss of work, and offered to pay the doctor's bill. Penalty 1s. and costs.
Newspaper report - 23 February 1899


---
1899 - Harvesting?

Employment wanted for Harvest Month; good stacker and thatcher - Address: O. Garbutt, Arkendale, via Leeds.
Newspaper advert - 15 August 1899


---
1899 - The Hunt

HUNTING NOTES - THE YORK AND AINSTY
A good average of sport still continues to prevail, and if there is every now and then a moderate day the moderate days do not come with the frequency which they did last season, and those who grumble at them should bear in mind that moderate days are a by no means infrequent occurrence even in the best of seasons. On Thursday the York and Ainsty met at Ribston Hall, where there was an exceptionally large muster fot a Thursday fixture, several visitors from the Brarnham Moor turning up. ...... So far nothing had been done of any account, and the day was wearing on fast, when a fox was put out of a tree in Allerton Park. They ran first to the fish pond, which they skirted, and then turning right handed, left the Park, crossed the Boroughbridge road, and ran by Arkendale Covert to Hay Park. Turning sharply to the right they ran nearly to Arkendale village, where they made a sharp turn back, and recrossing the Boroughbridge road, ran nicely over a fine country as if for Marton, checking at the Marton road half a mile to the left of that village, and finally they marked their fox to ground at Ornhams. It was a pretty hunt of 37 minutes, but I should have liked to have seen less wire.
Newspaper report - 9 December 1899


---
1900 - Father Fallow's Children's Circle

A NICE LETTER.
Dear Father Fallows, I wish to become a member of your Children's Circle. I promise to be kind to all dumb animals. I go to Arkendale School. It is a mile from our house, and I enclose one penny stamp for the soldiers. Your affectionate son, WILLIAM SIMPSON. Ferns House, Arkendale.

This is a nice letter, and I hope to hear from you again. Will you tell me all about your rabbits? - Father Fallows.
Newspaper report - 23 December 1899

A GOOD BOOK.
Ferns House, Arkendale; December 28th, 1899.
Dear Father Fallows, I am writing to thank you for the nice book you sent me. My father and mother think it is a very nice one, and I think I shall enjoy reading out of it. We have a week's holiday at school. I wish you a Happy New Year. I enclose one penny stamp for the soldiers.
Yours truly, WILLIAM MUSGRAVE SIMPSON.

Many thanks for your pretty card and contribution. - Father Fallows.
Newspaper report - 6 January 1900

A CORRECT REPLY.
Ferns House, Arkendale.
Dear Father Fallows, I could not go to school to-day, it has been snowing a lot and it lies very deep. We have got a little dog and we like him very much and I am very kind to him. I read the letters in the paper and I think there are some very nice ones. 1 think your best friend is your mother. I am sending you one penny stamp for the soldiers who are fighting in South Africa. And now I must conclude wishing your circle every success. I remain, your loving son, WILLIAM MUSGRAVE SIMPSON. Ferns House, Arkendale.

Your answer was correct. Father Fallows.
Newspaper report - 17 February 1900


---
1900 - Two black eyes

Knaresborough Petty Sessions
On Wednesday Mr. A. W. Gilling supported a complaint preferred by Thomas Ingham Simpson, of Arkendale, farmer, against Christopher Cliffe, of Knaresborough, for an assault. On Sunday, the 11th inst., the defendant was at Arkendale, and had a quarrel with some boys in the street. Mr. Simpson was standing by the gate leading into his house, and the defendant went up to him, and without the slightest provocation struck him with violence in the face and knocked him down, giving him a couple of black eyes and making blood flow freely. Defendant was fined 40s., and costs 30s. 6d., or in default a month's imprisonment.
Newspaper report - 29 March 1900


---
1917 - War Savings

In the Yorkshire village of Arkendale, consisting of thirty houses, fifty members joined the village War Savings Association within a fortnight, and immediately collected £644.



---
1919 - Sale of Arkendale Manor by J.H. Nussey

Twenty lots, comprising 930 acres producing a rental of appropximately £1,400 per annum.

.... click here for the full sale prospectus


---
1949 - Newspaper feature
ARKENDALE
The villagers of Arkendale are more concerned with the present than the past, even though their past does go back for several hundred years. For a village of only just over 30 houses, their interests are many. The main topic is probably the weather, for it is an agricultural area, and the farms overlap on to the street, so that you step aside to avoid a pile of straw or a hen or a duck. But the villagers have more than work to occupy their minds, and they are proud of the fact that quite a lot happens in Arkendale. The things that do happen are not perhaps very important, and are concerned only with village life, but they go with a swing and everyone turns to and lends a hand.
The church council is active, the Women's Institute has about 35 members, and the cricket club, although only two years old, is flourishing. The cricketers had to start from scratch, without even a pitch, so they built their own. Round at the Institute they, too, believe in doing something useful, so the last few weeks have been spent making shopping baskets. An extra basket always comes in useful on market days.
It is a friendly village, and the people like to think of themselves as one family. Some of the families have lived there for generations, and Mr. and Mrs. T. Gill, both nearing 90, find themselves now the oldest inhabitants.
Arkendale is not renowned for anything in particular, and changes have been no feature of its life. The elms which lined the road are being cut down at present, and this is the first big change for many years. The trees were one of the main attractions of the village, and although they are being felled for safety's sake, there will be a few regrets. The handsome avenue of elms. Lombardy poplars and firs still stands along Arkendale Ridge, however, and it is one of the beauty spots of the district.
The villagers have no pretensions to renown, but they believe that Arkendale is an interesting spot. The name itself is interesting, they think, and they ask themselves why it should carry the suffix "dale" when there is no river. That "dale" is one of the recent additions to a village which is mentioned in England's chronicles as far back as 1378. The name then was Arkynden, and it may be that the name derives from some Saxon lord whose name was Arnkell, and the old English word "denn" meaning a pasture.
There has been a church in the village for a long, long time, and the chantry chapel of St. Bartholomew was built by the devout inhabitants, who found it a weary trek to attend mass in the Parish Church at Knaresboro'. The present church was built in 1836, and the Bishop consecrated it the following year. It has no claim to beauty, and perches rather morosely above the road. The rest of the village shares its simplicity.