Other material
Click images to enlarge
---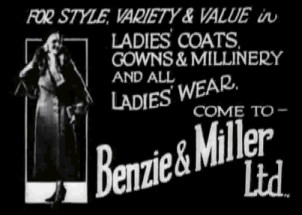 In 1931 a series of adverts ran in the local cinemas promoting the Benzie and Miller store in Fraserburgh.
These can be seen, together with adverts for other businesses, at
Scotland On Screen
See:
scotlandonscreen.org.uk/browse-films/007-000-002-403-c
The Benzie & Miller stores were taken over by the House of Fraser in 1958. The Fraserburgh Benzie & Miller store closed down on Saturday 30th March 1968. The building was later occupied by Alex McDonald and Sons who opened a supermarket there in November 1969, but it closed down in 1971. It was later owned by William Reid who had a shop there until 1975. Benzie & Millers store in Peterhead closed about 1977 or 1978 after a fire destroyed it. The Banff store closed around the mid-1980's and is now McKay's. The last part of the Benzie & Millers Fraserburgh store was demolished in 1985 and is now part of a sheltered housing complex
Alexander Benzie, the owner of Benzie and Miller, moved south to Exmouth following the buyout by Hugh Fraser and bought the drapers/department store Thomas Tucker in the town. He ran this business, with his son Ronald, until his death in 1991.
August 5 1958
"The old established firm of Fraserburgh Messrs Benzie Millers Ltd has changed hands, and on Wednesday negotiations were completed and the firm was taken over by Mr Hugh Fraser, Britain's Master Draper, the Head of the House of Fraser. Bailie Alex Benzie will remain with the firm and things will carry on the same as before except that the firm will be under new management."
Formation of Benzie & Miller
June 8 1920
A Combination that will Lower Prices - William Benzie (Draper), James Miller (Cabinet-Maker) and Robert Henderson (Messrs Goodlad & Coutts Footwear) have amalagamated.

This Important result and event will enable the general public to avail themselves of the greatly increased buying powers, economical working and consequent reduction in prices which must result.

Drapery - The Drapery Business of William Benzie has long been patronised by Ladies of taste and refinement. The same exercised attractive taste will continue.
Footwear - Goodlad and Coutts have won a deservedly good reputation as bootmakers. Under the direction of Robert Henderson, this department is assured of great success.
Furniture - James R Miller is outstanding as an artist in high grade furniture manufacture. Hundreds of happy homes bear testimony to his talent and skill.

Benzie & Miller Ltd
27 - 29 Mid Street
Fraserburgh

---
Some notes from the House of Fraser archive
Benzie & Miller Ltd
This name was used: 1920-c1980s
Dates of existence: 1920-1980s
Legal Status: Private limited liability company
Location(s):
19-29 Mid Street, Fraserburgh, Scotland
Banff, Scotland
3/17 Union Street, Inverness, Scotland
1 Drummond Street, Inverness, Scotland
33-49 Baron Taylor Street, Inverness, Scotland
Peterhead, Scotland
The foundations of Benzie & Miller Ltd lie in the late nineteenth century in north east Scotland. In 1887 William Benzie, a young businessman, took over the Colosseum Warehouse drapery business on 32 Mid Street, Fraserburgh, from Mitchell & Co. The business was extended in 1896 when a new store was built across the street. In 1898 a power plant was installed providing electricity and ensuring that the store was well lit. This impressed the locals as it was the first of its kind in the area. The store increased in size and popularity over the years and in 1920 Mr Benzie started to think about establishing a department store. James Miller, a personal friend of Mr Benzie, trained as a cabinetmaker and ,under Mr Benzie's recommendation, he established a cabinetmaker and furnishing business in Fraserburgh. His business was largely successful but when called up to serve in France in World War I he decided to sell his stock and machinery and abandon the business. After the war he gradually began restoring it and it once again grew in popularity. After much discussion Mr Benzie and Mr Millar, along with Mr Benzie's manager John Halkett, decided to combine forces and set up a department store named Benzie & Miller Ltd in 1920. Mr Henderson, a shoemaker who owned a store nearby, also became one of the directors of the company as he had agreed for his store, Messers Goodlad and Coutts, to be rebuilt and redesigned to assist the extension of Mr Benzie's existing property. Around this time Benzie & Miller Ltd also bought over a new bootmaking firm called Abercromby Ltd. This business merged with Messrs Goodlad and Coutts to form the footwear department in the Benzie & Miller store. Other departments, such as ironmongery, hardware, china, and glassware were soon established in the store as well as a small tearoom. Over the years the menswear department and fashion salon were also introduced and other departments were extended and improved. The store also underwent a number of alterations over the years. Mr Benzie died in 1931 and Mr Miller in 1934. Their sons, Alexander Benzie and John B Miller, also became directors of the company. Benzie & Miller Ltd stores were also established in Banff, Inverness and Peterhead, and these were often known simply as Benzies. Benzie & Miller Ltd was bought over by the House of Fraser in 1957. Alexander Benzie continued to run the Fraserburgh store until 1960 when he bought a new department store, Thomas Tucker, in Exmouth, Devon, and moved south with his family. The stores operated as usual until they closed down one by one, Fraserburgh in 1968, Peterhead in 1977/1978 and Banff in the 1980s.
---

Benzie & Miller's Shoe Shop, 32 Broad Street, Fraserburgh. Owned by Benzies from 1951-1967. Previously a shop was at 28 Broad Street from 1940 to 1951

Departure of Bailie Benzie

Sale of B&M to House of Fraser

B&M store at 13/17 Union Street, Inverness

People crowded around Benzie & Miller's shop window, 13/17 Union Street, Inverness. Taken during the Queen Mother's visit to the town in 1953 and the window is full of royal memorabilia and union jacks, An anti-royalist notice written by the SRA (Scottish Republican Army) is stuck to the front of the window. Picture from Am Baile - Highland History and Culture

Display on the roof of Benzie & Miller's partially rebuilt store for the Coronation celebrations in 1953 - designed by Andrew Cardno

Santa arriving at Benzie & Miller's

Shoe display window at Benzie & Miller's

Benzie & Miller's float for the Queen's Coronation parade in 1953

Benzie & Miller's float for the Queen's
Coronation parade in 1953

19th November 1921

July 1939

William Benzie, with wife Helen and children Annie, Alexander (who later took over the business) and Jean (c.1910)

Alexander Benzie

B&M's Fashion Show in aid of the Aberdeen Royal Infirmary Appeal, October 1936