Penguin Books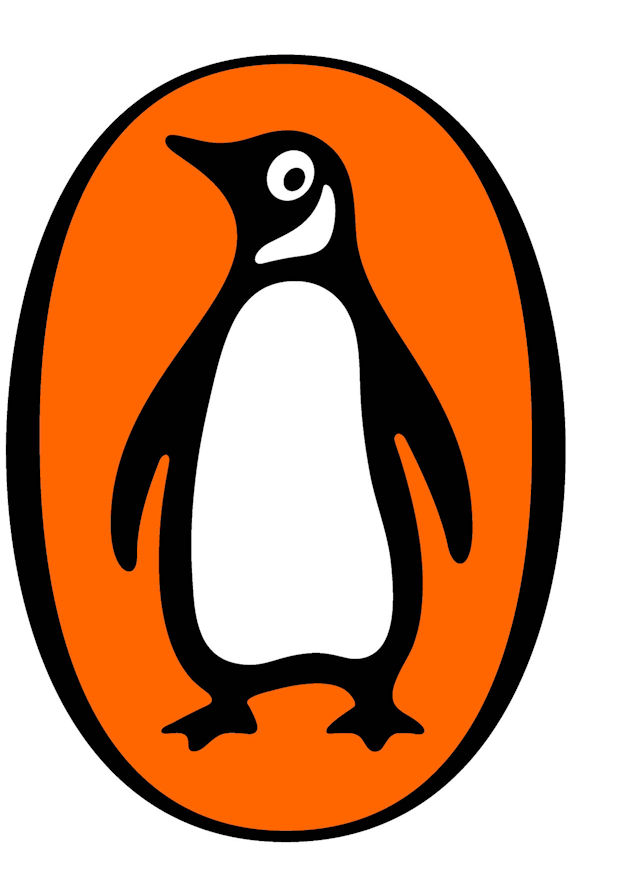 A reprint of a romantic biography of Percy Bysshe Shelly occupies a unique position in history, not particularly for its content or literary worth, but for the role it played in the launch of a publishing phenonemon.
Ariel
, by
André Maurois
, was the first Penguin paperback.
Allen Lane, managing director of the Bodley Head, was waiting for a train at Exeter station on his return from a weekend with Agatha Christie, and could find nothing at the bookstall to read to pass the time. Instead he mulled over an idea that had lain dormant for the past few years. People long had bemoaned that it was only at European bookstalls that cheap reprints could be bought to read. What if the Bodley Head could publish good quality, contemporary writing in cheap editions? By the end of the month he had started to approach publishers for the rights to reprint their leading authors' works in a new series of books that would sell at the price of ten cigarettes, sixpence each. He combined the essential ingredients of a number of other series - Benn's Sixpenny Library, the cheap reprints of Ward and Tauchnitz, and the colour coding of the Albatross Library - together with mass production, distribution and advertising.
The name Penguin was selected because it embodied
"a sort of dignified flippancy"
- being friendly, happy, not too scholarly and appealing to everyone. Edward Young, a production assistant, was sent to London Zoo to sketch penguins - the Penguin logo was born. On Tuesday 30th July 1935, the first ten Penguin titles hit the bookshops in London - bright colourful books that immediately drew the attention of the public: orange for fiction, dark blue for biography, green for crime, red for plays, cerise for travel, yellow for miscellanea. Orders rolled in, and outlets such as Woolworths helped to spread their fame wide. These inaugural titles were: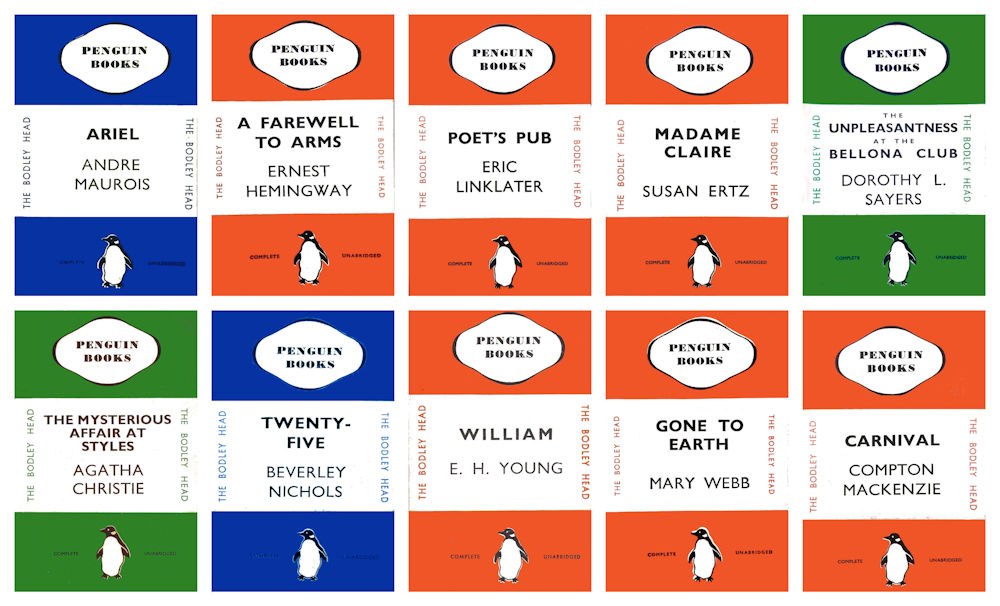 These books, together with their successors, established a new, permanent trend in publishing that has developed into what we have today. The "main" fiction series soon attracted original works in addition to reprints and subsequent series were born to cover other interests - Pelicans (with light blue covers) for non-fiction, Puffins for children's books, Specials for topical political titles, Guides to counties of England, Penguin Poets, Handbooks for practical titles, Classics for Greek, Roman and other classical works. Many other series joined the Penguin fold over the next twenty years, some of which are still in existence today in some form.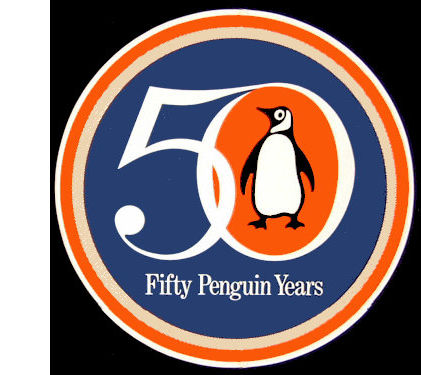 I cannot recall how my interest in early paperbacks was kindled, but Penguins, together with other pre-war series and their successors into the mid-50s (such as Pan and Fontana) have given me endless pleasure in the hunt for copies - many of which are still elusive - and the delight in serendipitous finds of new authors, gems of literature and design or just an unexpected good read.
In 1985, Penguin Books marked their Golden Anniversary with a range of celebrations, special publications, followed by a similar, but lower key celebration in 1995 for the 60th anniversary.
A selection of Penguin anniversaries items

Old and new penguins for the 50th anniversary

21st anniversary book

10th anniversary book

25th anniversary book

50th anniversary badge

40th book of matches

60th anniversary fabric badge

75th anniversary logo

80th anniversary logos
The Penguin Donkey
Iconic designs, specifically suited to the storage and display of the early Penguin books
| | | |
| --- | --- | --- |
| Isokon Penguin Donkey - designed by Egon Riss in 1939 for the original format Penguin paperbacks | Isokon was revived in 1963 by Jack Pritchard and this Mark 2 Donkey was manufactured from 1968 until 1980 | Shin & Tomoko Azumi created a third re-imagination of the design in 2003 |