The work will focus on refurbishing the existing venue, creating the high quality restaurant and country pub we discussed during our visit. However, for the time being we will not be extending this work to include bedroom renovations, which should ensure that the project is completed more quickly. "

[Gavin Holman]

---
May

2
Waste Collection Day Changes



Harrogate Borough Council are changing the days our waste and recycling is collected. From w/c May 13th, this will take place on a FRIDAY.

For full details of the new dates - see the Refuse and Recycling Dates

[Gavin Holman]

---
May

1
MS Coffee Morning



Thank you so much to everyone who came, helped, donated prizes, cakes or money for my MS coffee morning today. We raised a staggering £666.30 so this will be donated to the local Harrogate Branch of the MS Society.

Thanks again for all your support - very much appreciated.

[Caroline Houseman]

---
Apr

23
Arkendale Soup & Sweet



Many thanks to all who came and supported the event held at the Community Hall in aid of Church funds. At the time of writing the profit stands at £573.

I would like to thank all those who helped on the day, those who made the tasty soups and the delicious choice of desserts, and those who gave us raffle prizes.

It was good to see the hall full with village families and people from nearby villages.

[Jean Cox]

---
Mar

26
Apprentice Recruitment



Incommunities are recruiting first year apprentices. Interested people should register by Sunday 5th May 2013.

See the: Apprentice Recruitment poster

[Gavin Holman]
---
Jan

9
Hotspots Referral Scheme

The scheme is intended to help vulnerable people with cold or damp homes over the winter months. If you are aware of anyone who would benefit please consider using the link at the bottom of this message.

The scheme provides a number of services including: Insulation, referrals for heating grants, benefit and fire safety checks for the elderly, 'keep warm' packs (hat, scarf, gloves, blanket etc), basic draught-proofing, a boiler service, small home repairs, and emergency heaters.

There are also outreach activities to provide information and support including coffee mornings and lunch clubs. Funding is limited, it will be allocated on a 'first come, first served' basis and there are basic eligibility criteria.

Full information can be found at: www.northyorks.gov.uk/keepingwarm


[Gavin Holman]

---
---
Dec

13
Blue Bell Inn - Planning Decision

The planning application for the Blue Bell is to be considered at the Harrogate Borough Council planning meeting on 18 December at 2.00pm. The Council has decided to allow parish councils and interested parties to participate in the meeting under the 'Opportunity to Speak' Scheme. If you wish to participate, you have 3 minutes to speak, and need to be there well in advance to register. See the Opportunity to Speak pdf document.


[Gavin Holman]

---
Nov

7
Allerton Waste Park - Planning Decision

NYCC's planning committee have approved the Allerton Park incinerator application, despite strong presentations by local representatives that argued against the scheme based on planning policy.

See below for links to YouTube videos of the proceedings.

[Gavin Holman]

---
Nov

5
Toys Wanted for Ark Sunday Club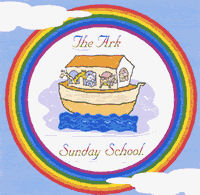 Ark Sunday Club is having a car boot sale of old toys in Spring. Please think of us if you are having a pre or post-Christmas clear out! Little or big, we will collect from anywhere in the Benefice, on a day to suit you.

Phone Sharon on 860534, text on 07977 927076, or email sharmcken@yahoo.co.uk

The sale will fund a permanent gift from the children of the Sunday Club and local villages to St Bartholomew's Church.

[Gavin Holman]

---
Nov

4
Green Waste Collection Suspended

Harrogate Borough Council's green garden waste service is being suspended during the coldest winter months. Just nine per cent of the year's total garden waste sent for composting is collected between December and February. Green waste collections will be made up until 30 November. They will start again in the first week in March.

Garden waste can still be recycled during this period at the civic amenity sites in Harrogate and Ripon.

Councillor Phil Ireland, the council's Cabinet Member for the Environment, says that to continue collecting garden waste during the worst of the winter months doesn't make economic sense. He added: "This winter suspension is in line with other local authorities. And because so little green waste is now being collected during these three months, our recycling and composting rate will only be slightly affected.

The garden waste collection will resume in week starting 4 March 2013. All households with a garden waste bin should start putting it out again as part of their normal recycling collection week.

[Gavin Holman]

---
Jul

24
Blue Bell - Special Parish Council Meeting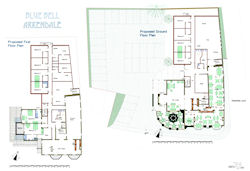 Richard Sykes, the new owner of the Blue Bell, outlined his revised plans for the pub. The original plans had been amended to reduce the number of covers and increase the bedrooms for guests. The full planning application is expected to be submitted to the Council in a few weeks, when there will be an opportinity to peruse them in more detail. Despite some concerns about the impact on the Community Hall, most of the attendees gave the plans their support and we look forward to seeing the work completed and the pub re-opening.
Click the picture for a larger scale version of the proposed new outline plan.

Click here for the Minutes of the meeting

[Gavin Holman]
---
Jun

13
Olympic Torch:

Caroline Houseman will be one of 5 people carrying the Olympic Torch through Knaresborough on June 19th. She will doing the first leg in Knaresborough starting at 1.37pm from Nidderdale lodge caravan park (a bit further on from the Toyota garage) and running with it up to The Chase near Manse Lane. The torch will then go via the High Street, Bond End and along the Knaresborough Road in the direction of Starbeck, then on to Harrogate.

Please turn out to support Caroline and cheer her on. We can feel very proud as a village that we have someone involved, and Caroline's nomination has been richly deserved.

[Sarah Shipman]

---
Jun

3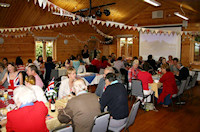 Queen's Diamond Jubilee

Over 70 people crowded into the hall on Jubilee Sunday to take part in the Jubilee picnic. Robyn Cox decorated the village green and the hall but the weather did not encourage us to picnic outside. How fortunate we are to have such a wonderful building and the fact that we were inside did not dampen our spirits at all.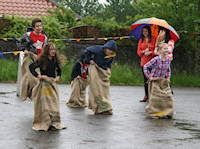 The event started with lunch after which the children braved the weather, under the watchful eyes of Katy and Vicky Houseman, and partook in some rather wet races. The adults meanwhile had a go at the royal quiz, first prize for which went to Janet Grimes. There were just two entries for the decorated plate competition but they both deserve a mention; one was a picture of a corgi made of lentils and various pulses, the other a picture of the Queen herself with a nose made from the end of a hot dog sausage. Well done to Helen and Harvey for these very imaginative creations.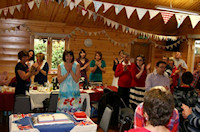 Bubbly was handed round and the high spot of the occasion was the loyal toast given by Rob Hassel and the cutting and distribution of the cake, made and decorated by Kay Holman. All in all it was a very happy event and it was a joy for us all to get together and celebrate such a momentous occasion.

[Sarah Shipman]

---
Jun

1
Launch of Harrogate Older People's Forum

If you are over 50 you are invited to the launch of Harrogate District Older People's Forum. This will be on Tuesday 17th July, 4pm-7pm, at the Cedar Court Hotel, Park Parade, Harrogate, HG1 5AH.


Are you interested in having a say about the things that matter to you?
Would you like to know more about what services and opportunities there are?
Are you interested in helping to shape the way services are offered and delivered?
Are you interested in having a voice that might influence local and national decisions?
Would you like to meet up regularly with other similar minded people? Or have your say from home or from a group that you regularly meet with?
Would you like to get out and meet new people, talk about and listen to things that are important to you, as well as socialise?
If you answered yes to any of these questions please come along to the launch meeting of the Harrogate District Older People's Forum.

Meet members of the North Yorkshire Forum for Older People and members of other local Forums in North Yorkshire. Hear from them about how their Forums work, the work they have been doing, and what they have achieved. Have your say about what you would like from your local Forum.

It's not all formal though! There's a chance to get together and socialise and enjoy tea, coffee and cakes and there's a free prize draw.

We look forward to meeting you. Please RSVP to Christine Boxall Harrogate & Area CVS tel: 01423 813094, email:carerstimeoff@harrogatecvs.org.uk

See: www.harrogatecvs.org.uk/olderpeople

[Gavin Holman]

---
May

25
Pump Seat Repair

You may notice the seat around the village pump is missing. It has not been stolen, it has been removed for repair. See the pump page for more information.

[Gavin Holman]

---
May

17
Waste Collection and Recycling

Arkendale and Coneythorpe, as part of the wider Knaresborough area, are phase 1 of the new Harrogate Borough Council waste collection and recycling scheme. This will extend the range of recycled materials to include cardboard and plastics, and provide wheelie bins for normal domestic refuse, collected fortnightly.

New grey wheelie bins will be delivered to homes between 6th and 26th June, together with a second black recycling box.

"Green" collection weeks, for recycling materials and green waste wheelie bins, start each fortnight from THURSDAY 5th July

"Grey" collection weeks, for all other waste, in the grey wheelie bins, start each fortnight from THURSDAY 12th July

More information is available on the leaflets delivered to each premises, or from the Harrogate Borough Council website.

[Gavin Holman]

---
May

15
Bluebell Inn Sold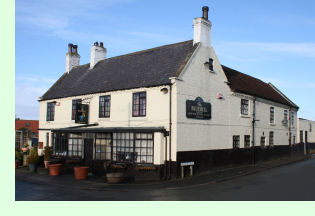 The Bluebell Inn, which has been on the market for the last few months, has been sold. Richard Sykes, of West Park Services, has bought the pub as a going concern.

At the Village Meeting today, Richard gave a presentation which outlined his plans for the refurbishment of the pub and and extension to the rear. He hoped to reintroduce bedroom accommodation and a private dining area, in addition to more traditional pub food fare and will retain a lounge bar for those who just want to drink.

A chartered surveyor and property developer by profession, Richard Sykes is investing in operational pub businesses, of which the Bluebell will be his second. He has recently opened the Moor and Pheasant, in Dalton near Thirsk, and hopes to have a similar success story here in Arkendale.

[Gavin Holman]

---
Apr

14
Village Spring Clean

Thank you very much to all who turned up on what turned out to be a rainy and cold Saturday morning to take part in the annual village spring clean.

Over 17 people came to help and we are very grateful to them and to Harrogate Borough Council for providing us with thick gloves, bags and 'litter pickers' for the job.

Wine bottles, broken and otherwise, beer cans, a full oil drum and many plastic bags were among the many items found in the hedgerows and verges. How sad it is that passers-by feel that it is too much trouble to take their litter home and, instead, wind down the window of their car to throw it out and mar our lovely countryside. Both this and fly-tipping on a larger scale is a very real problem in rural areas and anyone who can identify the culprits is encouraged to report them to any of the parish councillors so that they can request that the offending items be removed.

[Sarah Shipman]

---
Mar

21
Speeding and HGVs in the village


At the Parish Council meeting this week, the local police community support officer, Alastair Graham-Merrett, responded to various queries from the council. On the question of vehicles speeding in the village, any specific incidents can be reported to the general police number, 101, or details can be emailed to the community support officers. A vehicle speed and traffic volume measuring strip is available for installation, provided by Ripon Fire Station, and this may be booked to collect data over the installation period.

Concern over an apparent increase in HGV traffic, ignoring the 7.5t "access only" restrictions, would need to be addressed via Trading Standards. Any vehicles suspected of breaching the road restrictions should be reported to the North Yorkshire Trading Standards office (01609 534800), with the name of the operator and/or the vehicle registration number. They can then take action if the vehicle was not delivering to the village, but using the roads as a short cut.

Click here for the briefing note on the new PCC and associated Panel

[Gavin Holman]

---
Mar

20
Police and Crime Commissioner


The Police Reform and Social Responsibility Act 2011 introduces a directly elected individual to be the Police and Crime Commissioner for a policing area.

Elections will be held for the PCC on 15 November 2012. The Police and Crime Commissioner will aim to cut crime and deliver an effective and efficient police service within the force area.

To provide stronger and more transparent democratic accountability of the police, PCCs will be elected by the public to hold chief constables and the force to account; effectively making the police answerable to the communities they serve.

Click here for the briefing note on the new PCC and associated Panel

[Gavin Holman]

---
Mar

1
NEW LIBRARY OPENING HOURS


Following a consultation process involving local communities and library staff, North Yorkshire Libraries' opening times are changing, with effect from 4th June 2012.

For Boroughbridge, Knaresborough and Harrogate the details are:


BOROUGHBRIDGE
Monday
2.00-5.00
Tuesday
2.00-5.00
Wednesday
Closed
Thursday
10.00-1.00
Friday
10.00-1.00, 2.00-6.00
Saturday
10.00-12.00
Sunday
Closed

HARROGATE
Monday
9.00-7.00
Tuesday
9.00-7.00
Wednesday
9.00-7.00
Thursday
10.00-6.00
Friday
9.00-7.00
Saturday
9.00-4.00
Sunday
Closed

KNARESBOROUGH
Monday
9.30-5.00
Tuesday
9.30-5.00
Wednesday
9.30-5.00
Thursday
9.30-1.30
Friday
9.30-7.00
Saturday
9.30-1.30
Sunday
Closed
[Gavin Holman]
---
Feb

21
ELECTION OF PARISH COUNCILLORS


An election is to held for 4 Parish Councillors for Arkendale Parish and 1 Parish Councillor for Coneythorpe & Clareton Parish. In addition, there is an election for 1 Borough Councillor for Claro Ward. The elections will take place on Thursday 3rd May 2012. Nomination papers must be delivered to the Returning Officer no later than noon on 4th April 2012.

Click here for the full Notices of Election.

[Gavin Holman]

---
---
Dec

12
Police Non-Emergency Number - 101

The national non-emergency number 101 is coming to North Yorkshire Police on 12 December and it will replace our local 0845 60 60 247 number.

While 999 is a well-recognised number used to report emergencies, the 2010 British Crime Survey found that only 54% of the public know how to contact their local police if they wanted to talk to them about policing, crime or anti-social behaviour. The introduction of the 101 number will offer the public one easy way to contact their local police force.

The benefits of this new number include: Calls from landlines and mobile networks cost 15 pence per call, no matter what time of day you call or how long you are on the phone; 101 is available 24 hours a day; When you call 101, you will be able to speak to the force control room via the automated switchboard and action will be taken on the information received. Calling 101 will not result in your call receiving a lower priority than if you had called 999 about a non-emergency issue. For those callers who are deaf, hard of hearing or speech impaired, the service can be accessed via textphone on 18001 101.

Further communications about the new number will be released in due course but more information can be found at www.northyorkshire.police.uk from 12th December.

[Jean Cox]

---
Oct

3
Ideas for our phone box
The village phone box has been decommissioned and adopted by the Parish Council. It is now available for use as a community resource - and this is where we need your ideas!

Over 1,500 phone boxes have been adopted across the country since the scheme started, and there are a wide range of uses for them: book exchange or library; art gallery; museum; information point; holding defibrillator equipment; shop; greenhouse; poetry box; produce and magazine swap; and many more.

What do you think?

It could be a permanent use, or something that changes periodically. Volunteers to help establish the box in its new role, and help with occasional maintenance are also sought.

Please send any ideas or offers of help to the Parish Council - email:

See: Best use of old red phone box (2009)


[Gavin Holman]

---
Aug

1
Clearing the Mar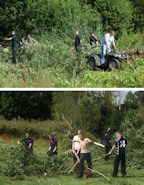 25 young army cadets from Penny Pot Army Foundation, under the watchful eye of their leader Colin Slater, descended upon Arkendale last Saturday to continue their 'battle' against the Willows. The Mar, an unspoilt area in the village with its pond and natural habitat, had become overgrown with willow trees which were rapidly sapping up the water. The cadets spent a day clearing the area at the request of the Parish Council and they did a superb job.

We are very grateful to them for all they did, and also to Peter and Caroline Houseman who set up a refreshment table for them, and to Mr Bailey who kept the pot boiling. The 25 young men have almost completed their training at Penny Pot and will, in three weeks time, be moving to Catterick Garrison for further training. Seeing them clearing the undergrowth and working very hard but laughing as they did so, it was hard to believe that before very long some, if not all, of these young men could be representing their country in some war-torn area. We do wish them well wherever they find themselves; they were a fine group of young men.

[Sarah Shipman]

---
Jun

22
Baby & Toddler Group
A new Baby & Toddler Group has been started, running on Friday mornings in the Community Hall.

See the Baby & Toddler Group web page for more details.

[Gavin Holman]

---
Jun

20
25 years in the Ordained Ministry
Congratulations to Rev Peter McCarthy of Ferrensby who, 25 years ago at the age of 61 on St Peter's Day, 29th June 1986, was ordained in Ripon Cathedral by the Bishop of Ripon. Peter has helped out for many years in the Walkingham Hill Benefice which includes Arkendale Church, and the Church community is very grateful for all that he does and continues to do in our parishes.
He is unusual for a priest because before ordination he had been a sailor for 42 years. He joined his first ship in 1941 and after only 2 weeks at sea he found himself part of a convoy which was attacked by the battlecruiser 'Scharnhorst' with the ship next to his being sunk by shellfire. The next four and half years found him on ships escaping bombs and torpedoes on a regular basis. He joined the Royal Fleet Auxiliary in 1948, that is the Navy's equivalent of the Army's Royal logistic Corps, and he met his future wife Margaret at a party on board his ship some weeks before sailing for the Korean War. They married in 1952 five months after his return and were blessed with a family, and Margaret had to get used to spending many long days without him while he sailed the oceans. In 1962 he was promoted to Captain and commanded 20 ships worldwide which brought him into active service in the Malaysian conflict and the Falklands War. For the latter he commanded a sister ship of the 'Sir Galahad' for which he was awarded the military OBE by HRH the Queen at Buckingham Palace. In 'good old Peter fashion' he said that really this honour belonged to his ship's company. He retired from the Navy in 1983 and was accepted for ministerial training at Durham.
He took charge of his first parish in 1987 which included several churches including Bowes. His next move was to Scotland where he became a non-stipendiary resident priest, an appointment which he described as 'wonderful'; sadly this particular work came to an end when he was diagnosed as being in imminent danger of dying, but he survived thanks to the wonderful care and attention he received at Harrogate hospital. For a man who had survived so many dangerous encounters on the high seas he was not to be beaten here at home. For that we are all very grateful because he has been able to continue to enhance the life of the local churches in our Benefice and in Knaresborough with his vast experience and gifts, as well as working as Chaplain. Although he has now retired as Chaplain to the Royal British Legion and the Royal Naval Association, he remains as Chaplain to the British Korean Veteran Association at York. Peter and Margaret now live at Ferrensby where Margaret takes pleasure in feeding the ducks and where Peter rather wistfully says that 'he doesn't get around as much anymore'. For someone who has travelled the high seas for so many years and who has found himself in so many very dangerous and challenging situations, life in Ferrensby is very different but he still keeps himself busy. He says that verses 3 and 4 of the hymn 'The day thou gavest, Lord, has ended' always give him itchy feet and bring back those many memories, some very happy and doubtless some very tragic, of his many years spent sailing in far-flung corners of the world. We wish him well and look forward to continuing to see him regularly taking services in our local Churches.
At 10am on 29th June, St Peter's Day, he will be taking a communion service at Holy Trinity Church in Knaresborough to mark his 25th anniversary to which everyone is welcome.

[Sarah Shipman]

---
Jun

12
Clay Pigeon Shoot
£494 was raised for Church Funds. We are very grateful to Jeremy Green for organizing this event, to the Knaresborough Gun Club for hosting it and to those who attended and gave so generously to the raffle.

[Sarah Shipman]

---
May

22
Parceval Hall Away Day
Last Friday a group from the Benefice attended an Away Day at Parceval Hall under the leadership of the Dean of Ripon, Keith Dukes. With farmers' crops in desperate need of water, we could hardly complain when the rain fell, and it did indeed fall during most of the day. However we were compensated by the fact that the farmers would be smiling and that the countryside and the gardens looked beautifully fresh and green; it is such a wonderful location that, whatever the weather, one cannot fail to be moved by the beauty and the peace of it all. A fitting backcloth for the main theme of the day that God sees us all as a people of beauty and worth.

Click the picture on the right for some photographs of the Away Day.

On Wednesday, 1st June, the study group will meet at 7.45pm; extra members are always welcome and if anyone wishes to come please contact me on tel 340515.

[Sarah Shipman]

---
Apr

18
Mrs Emily Houseman (1914-2011)
Emily Houseman, neé Needham, was born on 8th March 1914. She was the only daughter in a family of 5 children which perhaps prepared her well for later on in life. Tragically her mother died when she was only 6 and she went to live with her eldest brother Ted and his wife at their home in Riddlesden where she went to school. She was a bright girl and showed an avid desire to learn which never left her; she was always a force to be reckoned with at quiz nights even into her 80s and 90s. On leaving school Emily went to work at the pattern office at Driver Hartley in Keighley where she completed 15 years of diligent service, with the clock and engraved silver plate to prove it. During the war she took a break from her usual work and was sent to a factory in the Midlands, where she had the responsible job of checking and packing parachutes for the war effort.

She came to live in Arkendale rather by accident than design. She came from Keighley to visit a friend and the bus driver, on dropping her off outside the village, had this advice for her, "Believe me love, once you've been there, you'll never wanta go back!" How right he was. She met and fell in love with a local farmer, Henry Houseman, and they were married in February 1952. She never lost touch with her friends from Keighley however and in the early days a minibus full of her friends made an annual trip to visit her.

Early married life saw Emily and her husband travel all over England and Scotland and then later abroad to Spain. Whilst in Spain Emily was reunited with a lady called Carmena, who had been a child refugee in Keighley during the Spanish Civil War in the thirties and with whom Emily had always kept in touch, even taking Spanish lessons to help to communicate more easily with her. This love of travelling never left her and in her 80s she still managed to visit members of her family in America. Life in Arkendale was very different from that which she had experienced in Keighley. Not only did she now have a husband to look after but also his 3 brothers; she took pleasure in doing all their washing and ironing, cleaning, cooking and baking, and she could often be seen taking huge picnics, known as drinkings, to the harvest field for her four hungry men.

Emily was a keen member of the WI, Farm Women's Club and Mothers Union. She served for many years on Arkendale Chuch PCC, was a sidesperson, and tended the gardens around the Church well into her 80s. Latterly she was an equally keen and active member of the Blind Club. Whatever was going on in the village Emily was always involved and helping in whatever way she could; her joie de vivre when participating in all sorts of family and village gatherings was really infectious. Even at 96 she was young at heart and, on going out for lunch one day to a local hotel, looked round at everyone else and commented: "Aren't there a lot of old folk in here today?!" At the age of 95 and as the oldest member of the village she was proud to open the new Community Hall in Arkendale alongside the youngest member of the village. 'Aunty Emily', as she was known in Arkendale, was loved and respected by young and old alike and it was fitting that someone who had given so many years of her life to the village and who was so universally liked should perform such a duty.

Emily died at the age of 97. Her funeral was held in Arkendale Church and she is buried in the cemetery in the same village in which she spent so many happy years. The Reverend Peter Midwood conducted the service and her great nephew, Peter Houseman, spoke about her life. She will be greatly missed in Arkendale.

[Sarah Shipman, by kind permission of Peter Houseman]

---
Apr

4
Arkendale 10K Run
Click here for a gallery of photos of the race by Tim Braithwaite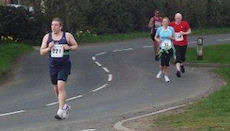 A fine morning last Sunday heralded the arrival of over 200 runners to our village, accompanied by family and supporters. The sun came out, the temperature was ideal for running and the rain stayed away for the whole event. The race was won by David Thompson from Barnsely AC in a time of just over 34 minutes. In the meantime children had their race round the field and all were awarded a medal which they wore with pride for the rest of the morning. Refreshments were on sale for competitors and supporters alike: hot dogs and beef burgers, cooked on the barbecue outside, home-made cakes and hot and cold beverages served inside the barn. The proceeds went to Arkendale Church and, despite there being fewer runners this year than usual, a good sum appears to have been raised (The exact amount will not become apparent until all the expenses have been taken out). Many thanks to all who donated cakes, who served the food on the day and who helped to clear away. Many thanks too to all those members of the village who turned out to act as stewards and those who helped with other jobs essential to the smooth-running of the event.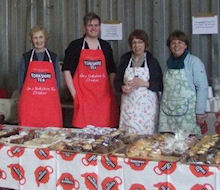 It was a really enjoyable day and many runners expressed their regret that this would be the last of its kind in our village; despite the hard work involved, I suspect that many of us felt the same way. However all good things must come to an end and we are very thankful for the ways in which the village has benefited from all the 10 km runs that have taken place, both today and in the past. It is fitting that we should not forget to thank the very people without whom none of the races would have been possible. Firstly the team 'Must tri harder' under the leadership of Steve who has organised all the entries and advertising, everything from insurance to the hiring of toilets, from prizes to the planning of the route and so much more. Their organisational skills have been second-to none and we are very grateful for all they have done.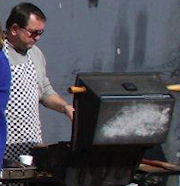 However none of the races would have been possible without the generosity and hard work of the Houseman family too and their team; they have allowed us the use of their farm facilities, they have done an enormous amount of work in preparation, moving farm equipment and sheep, clearing and cleaning barns, bringing tables, chairs and fridges from one venue to another and many other tasks known only to themselves, but which most certainly must have disrupted the day-to-day running of their farm leading up to the day of the race. We are very grateful to them for all they have done.

While we adults were chasing to and fro to get everything ready in time for the run, one young girl couldn't really understand what all the fuss was about; on looking across the field she saw the 'Start' sign at one end and the 'Finish' sign at the other and, turning to her Mum said, 'They don't run very far do they!'

[Sarah Shipman]

---
Jan

29
Antiques Evening:
A very enjoyable evening was had by all when Mr and Mrs Greenwood from Staveley came to talk about and put a value on items of interest which we had brought along. Sadly there were no surprises like Ming vases out of the attic but, nonetheless, the evening was informative and fun. We are grateful to Mr and Mrs Greenwood for their time, to all those who provided refreshments and, last but not least, all who supported the event.

[Sarah Shipman ]

---
---
Ice & Snow
The recent cold weather has been a challenge for most people, and we should thank those that have helped to clear roads and paths in the village. Although Topcliffe experienced the lowest temperature ever recorded in Yorkshire on the early morning of Friday 3rd December 2010, at -19 °C, Arkendale was not far behind at -17 °C

[Gavin Holman - 6 December 2010]

---
Broadband
Faster Broadband: residents of Knaresborough were recently encouraged to vote for faster broadband. If we are not careful in the villages we are going to miss out on this wonderful opportunity to upgrade our system. This is what the BT website says about the Copgrove exchange: "Sorry but your exchange is not eligible to win the Race to Infinity as it has fewer than 1000 premises. We still want to get you involved so please go to VOTE NOW to express your interest. If 75% of your exchange registers, BT will engage with your community to see what we can do in your area. "

The percentage of votes received so far are 10 out of a possible 573 which represents 1.75%. It was hoped to bring faster broadband to rural areas and in such areas the population is always very spread out and sparse compared to that of the towns. Please vote and show BT that, even though our numbers are small, our need for this facility is just as important as it is in the cities and towns. In fact at the present time our broadband speed is already much less than that found in some other areas and Copgrove exchange is in dire need of upgrading.

To vote, please visit the BT Race to Infinity website.

[Sarah Shipman - 14 November 2010]

---
Arkendale Wine Society
The first meeting of the society got off to a great start with a tasting of 9 different wines!

Our second meeting is on Thursday December 16th at 7.45pm when we will taste a variety of wines all ideal for Christmas drinking. The wines will be presented by members of the Community Hall committee.

The Society is for those who enjoy wine and want to learn more in a relaxed setting. The cost is £10.50 per head payable on the evening.

It is important to let Alan Stokes know if you intend coming - we have to make sure we have enough wine and nibbles!!! 'phone 340517 or e-mail topo@ajstokes.plus.com

The January meeting will be on Thursday 20th with Nick Chadwick from Winearray.

[Alan Stokes, 14 November 2010]

---
Allerton Quarry incinerator
The decision as to whether or not to award AmeyCespa the contract to build the incinerator is to be made by 72 County Councilors at NYCC on the 15th December. If you feel strongly that this incinerator should not be built, if for no other reason than the financial implication that such a project would have on the council tax payers, then there is something that you can do. There are 500 parish councils who could influence the County Councilors to vote against the project but they all need contacting by phone to ask them to help with the cause. Volunteers are urgently needed to assist with this. It will involve looking on the NYCC website to find the telephone number of the Chair, and then phoning the respective lady or gentleman to ask them to explain the position. If you feel you can help and welcome the opportunity to do something positive to prevent the building of the incinerator, please contact Mr Peter Topham, the Chairman of Arkendale, Clareton and Coneythorpe Parish Council who will be coordinating the phone calls and putting together a format for the phone calls. His email address is: peterandcarole.topham@btinternet.com.

[Sarah Shipman - 10 November 2010]

---
Church Fund-Raising
We arrived in the market-place to set up our stall at 8am, quietly confident that we would have plenty of time to arrange all the produce, but to our surprise there were already customers waiting to buy. It was a beautiful sunny day for the event and we had sold out by 11.30am. The grand total of £296 was raised for Church funds. Thank you to all who provided cakes and/or produce, to those who served on the day and to all who spent money at the stall. Our next fund-raising event is a Soup 'n Sweet on Saturday, 23rd October, from 12 noon to 2pm in Arkendale Community Hall. Please put the date in your diaries.

[Sarah Shipman - 1 September 2010]

---
Blue Bell French Evening
The French evening that had to be postponed recently took place instead last Friday and was enjoyed by many. Some were brave enough to dress up in good Allo Allo fashion, French music set the tone, and a very varied buffet was laid on by Natalie, Ken and Linda. I sink it is fair to say zat a good time was 'ad by all. There are plans afoot for other theme evenings so watch this space.

[Sarah Shipman - 1 September 2010]

---
Allerton Waste Recovery Park
A special meeting of the Parish Council was held on 26 July 2010 at which the main topic for discussion was the Allerton Waste Recovery Park project. The Council have sent in a response to the scoping opinion request and some of their main points are summarised as follows:

Why is such a controversial scheme of £1.4bn proposed when cut backs are being implemented elsewhere? Will it be necessary for the developer to incinerate large amounts of commercial and industrial waste because of a shortfall in levels of household waste?


Will the contract terms and conditions be varied in future to allow waste from further afield to be brought to the site, because shipping waste in from other counties will obviously have a massive environmental impact on the road network and surrounding areas?


More details on alternative technologies that avoid incineration are requested and evidence of what those alternative technologies are and what they could achieve.


The original planning permission for the quarry was only granted on the clear commitment that the land would be restored and landscaped in 2018. If such a planning requirement can be removed, could any planning requirements associated with this development also similarly be removed in future? What restrictions will be put in place to prevent future industrial enlargement and development of the site and ribbon development along the A168?


Allerton Castle (Grade 1), Allerton Folly (Grade 2) and Allerton Park and Garden (Grade 2) are all in the immediate surrounding district.


What will be predicted noise levels, particularly at night as the incinerator is planned to be in operation 24 hours a day?


With regard to light pollution, what measures would be taken to avoid any dome effect?


What implications will there be for the health of the residents of Clareton because of increased magnetic levels from electricity generated going through to the Coneythorpe sub station less than 10 metres from residences?


Has consideration been given to the predicted extra 120 vehicle movements a day, particularly at the time of the Great Yorkshire Show and with the new hotel development at Flaxby? What analysis of the carbon footprint of construction machines, trucks, employees' vehicles etc has been made?


What will happen to the bottom ash if it is deemed not suitable to be used as aggregate? Will it be landfilled, which completely floors the argument for incineration?


The report claims that only 1,200 people live in this "sparsely populated" area and this figure needs clarification; according to the 2001 Census, the parishes of Marton cum Grafton and Great Ouseburn both have populations of over 500, Whixley over 700, and Arkendale, Coneythorpe and Clareton Parish Council a population of nearly 400 Will this development have an adverse impact on the farming economy and more general rural economy locally? Will it affect house prices and drive people from local villages?


There is concern that this scheme is being promoted as recycling most of what it receives, and that this will give residents of North Yorkshire the belief that they do not have to bother to recycle their own household waste for kerbside? What other measures are going to be taken to improve overall recycling rates in North Yorkshire?
[Sarah Shipman - 27 July 2010]
---
Clay Pigeon Shoot
Over £650 was raised for the Church at the recent Clay Pigeon Shoot kindly organised by Mr Jeremy Green. It was a highly successful event, helped by a very pleasant evening weather-wise. The Church is grateful to Knaresborough Gun Club who hosted the event and for the generosity of its members and visitors. The raffle, thanks to many very generous donations, was indeed the 'massive' one that had been advertised, and I have never seen so many prizes in a Church raffle before.

[Sarah Shipman - 17 June 2010]

---
Marie-Curie 'Blooming Great Tea Party'
Mrs Mountain and her three daughters hosted their tea party last Saturday in Arkendale. They would like to thank all who helped or supported them either beforehand or on the day, and gave so generously. Clearly a great deal of work had gone into the event and it sounds as though a good time was had by all. There was tea and cakes, live music, 2 artists with displays, and a live auction. The splendid sum of over £2,500 was raised in just 3 hours and I am told that money is still coming in! What a wonderful effort on behalf of the Mountain family for a truly worthwhile cause. Marie-Curie Cancer Care provides nursing care and support to terminally ill people in our neighbourhood and it is wonderful that there are young people like the Mountain girls who are prepared to give of their time and efforts to help such vital work. Well done indeed, and I am told that we must all be ready for another similar event sometime in the future.

[Sarah Shipman - 17 June 2010]

---
Brides Revisited
The weather over the bank holiday could so easily have dampened people's spirits, particularly when a hailstorm swept across the countryside, but morale was high in Arkendale for Brides Revisited.

The older wedding dresses from the 19th and first half of the 20th century were displayed in the church and a visitor's comment 'a lovely display in a lovely setting' summed up what we all felt. Another visitor spoke of 'hidden gems' and indeed the wide range of dresses was remarkable: one dress was so fine that it could be passed through a wedding ring, another post-war dress had nursery-rhyme designs on (perhaps the only material available with coupons!), and a silk velvet dress from the 19th century had a long brocade train and rope tassels dipped in silver, tarnished over the years but still very impressive.

The second half of the exhibition was held in the new community hall with dresses from 1958 onwards, ranging from bri-nylon bride and bridesmaid dresses to a much more modern dress which reflected Victorian fashion.

It was a pleasure for visitors and stewards alike to reminisce and reflect on their own wedding attire and special day. Refreshments were on sale in the hall and Mrs Lyn Hopwood, from whose collection the dresses came, was present throughout the three days to talk to visitors.

The village is extremely grateful to her for such a magnificent display and we do appreciate all her hard work and time. Thanks must also go to both Eileen Houseman and Jean Cox who shouldered most of the responsibility for the organisation in the village leading up to and during the exhibition; it is thanks to them that everything ran so smoothly during the weekend.

It was altogether a very enjoyable event and was successful in raising money for both the hall and the church. However, the lasting impression of the weekend is not just the remarkable collection that we were privileged to have in our midst but the camaraderie and togetherness of the community. Villagers made cakes and scones, rallied round to do car-parking duty, refreshment duty and stewarding, the church organist played the organ during two afternoons and nobody let us down; to maintain that level of commitment over three whole days from such a small community, and with such good humour, is quite remarkable and the hall committee and the church PCC are very grateful for everyone's contribution. It is this very special community spirit that makes living in a village so rewarding.

[Sarah Shipman - 10 June 2010]

---
Parish Council - May 2010
Parish Council: The Annual Parish Meeting of the Arkendale, Coneythorpe and Clareton Parish Council was held on Tuesday, May 18 and the following points of interest were raised: Coun John Watson (NYCC) gave an update on the issue of the waste incinerator at Allerton Park Quarry. There will be an announcement of the preferred bidder in the first week of June, followed by debates at NYCC and HBC, all the usual planning stages and then possibly a judicial review.
This will be a £1billion contract, and if it goes ahead it will process 450,000 tonnes of domestic waste each year from all over North Yorkshire, via sorting, anaerobic digestion and incineration.
Alternative suggestions for waste disposal were also discussed. The Parish Council will be kept informed of developments at each stage of the planning as the quarry falls within our parish.
Gavin Holman, who is responsible for the Arkendale website, confirmed that all minutes of Parish Council meetings from many years ago are now available on a CD, with extracts on the website, and people are very welcome to contact him via the website if they are interested in reading any of these.
Requests were made to look into the following:- a replacement Neighbourhood Watch sign on Shortshill Lane, new village signs perhaps using old millstones, and for overhead electric cables to be put underground. Concern was also expressed about the lack of fast broadband in the village.
The chairman of the Parish Council then asked for suggestions for projects for a new 'participatory budgeting' fund of up to £2,000; all suggestions need to be given to the Parish Councillors before June 30 after which a special meeting will be held to discuss how best to proceed.
The next Annual Parish Meeting was confirmed for Tuesday, May 10, 2011 and the meeting closed at 8.50pm after which the annual meeting of the Council was held.
Peter Topham was elected as chairman and he will also be the Village Hall Representative; Dave Smith was elected as Vice-Chairman and he will represent the Council at the Police Liaison Group. The accounts and statements of balances for the past financial year were approved.
The next meeting will be held on Monday, September 20 at 7.30pm and all residents are very welcome to attend.

[Sarah Shipman - 28 May 2010]

---
London Marathon Sponsorship
On April 25th Simon York from Arkendale will be running in the London Marathon to raise money for the children's renal unit, Ward 15, at St James Hospital in Leeds.

If anyone would like to sponsor Simon he has a sponsor form at Scotton Garage in Lingerfield, and there is also one at the back of the church in Arkendale.

Any support is much appreciated.



---
Arkendale 10K Run 2010
350 runners gathered at Sunnyside Farm for the start of the 10k Run on Sunday, 28th March. A brisk cold wind and some very muddy areas added to the difficulty of the course but the runners bravely overcame these conditions. Awaiting them at the barn at the end of the race were a wide selection of home-baked cakes, barbecued hotdogs and beef burgers and a selection of drinks, hot and cold. We are again grateful to Taylors who supplied the tablecloths and bunting for the refreshment area. Above all, however, many thanks go to Steve and his team for organising the event, and to the Houseman family for the use of their property; all of them did a great deal of work behind the scenes to make the day such a success and their contributions must not be underestimated. Also many thanks to all of you who gave your time on the day to help out and who contributed food to sell. The whole event was a huge success, raising £665 for church funds from the refreshments - and it has certainly become a very important day in the Arkendale calendar.

See: Arkendale 10k 2010 Gallery for a selection of pictures from the run and the some of the stalwart helpers who served refreshments, hot dogs and burgers.

A list of the winners can be found on www.musttriharder.net

[Sarah Shipman - 29 March 2010]

---
Historical Parish Minutes
The minutes book for the Arkendale Parish Council, covering meetings from the first one in 1894, through to May 1996, was recently been rediscovered. Although there is a gap in the record between 1953 and 1971, it gives a unique insight into the life of the village over the years.
The book itself will be given for safe keeping to the North Yorkshire Archives at Northallerton, but the entries have been scanned, and the digitised pages stored on CD for access by today's villagers and researchers.
Anyone wanting further information, or a copy of the CD should contact Gavin Holman - gavin@ibew.co.uk
See: Arkendale Parish Council Minutes - 1894 - 1996

[Gavin Holman - 11 March 2010]

---
Parish Council - February 2010
The Parish Council were very pleased to welcome Cllr John Watson (NYCC), Cllr Anthony Alton (HBC) and Mr James Malcolm from the Highways Department (NYCC) at their meeting held on 16th February. Full minutes of the meeting will be displayed on the village notice boards but the following points may be of particular interest:
Cllr Anthony Alton (Harrogate Borough Council) confirmed that there would be no increase in the Council Tax demanded by Harrogate Borough Council next year and that recycling collections of garden waste are to be extended.
Cllr John Watson (North Yorkshire County Council) informed members that the Council Tax set by NYCC is going up by 2.9% next year – 0.4% of this is because there is a legacy of £20 million in costs for repairs to the roads after the very bad winter. He also advised that the timetable on the Waste Incinerator plans at Allerton Quarry is slightly delayed again, and that the final planning decisions will not be taken by NYCC until next year (2011).
Mr James Malcolm (Highways) discussed the problems caused to the road system by the winter weather. In particular potholes are a problem, but he said that there will be further funding in the next year for strengthening and improving the roads.
The matter of a new bench seat is be discussed at the Annual Parish Meeting, before a decision about is finally made, and it was also decided that the Parish Council would like to adopt the Pay Phone kiosk at Arkendale
The poor condition of some road signs was noted and it was agreed that the Clerk should request that the sign opposite The Bluebell public house should be replaced, and that the 'children crossing' sign opposite the church gate should be moved to the other side of the road, where it would be more helpful..
The next meeting of the Council will be held on Tuesday 18th May 2010, immediately following the Annual Parish Meeting which is a meeting which parishioners are encouraged to attend; it provides a very useful opportunity for important issues and concerns to be raised.

[Sarah Shipman - 28 February 2010]

---
Bicycle Thieves
This is a message from North Yorkshire Police.
There has recently been an increase in bicycle theft in the Harrogate area. We urge all residents to keep bikes out of sight and safely secured. Remember that the security of any shed or outbuilding must reflect the value of its contents. Please keep your bicycles safe. If you have valuable items stored in a shed it is advisable to update your security.

[Cynthia Strong - 20 February 2010]

---
Potholes
As a result of recent bad weather, there are some very large potholes appearing in the roads. If you are an internet user you can contact North Yorkshire Council on the following website: www.northyorks.gov.uk/index.aspx?articleid=42 and click on 'Report' for a brief form on which to explain where the particular potholes are. If you do not have access to the internet please contact your local parish councillors so that they can make the report on your behalf.

[Sarah Shipman - 26th January 2010]

---
---
Christmas
At the time of writing this, it has just stopped snowing and the countryside looks particularly beautiful with the sun going down through the trees and casting a yellow glow over the snow-covered fields. However such weather brings with it hazards for motorists and pedestrians alike, and, however much we may secretly wish for a white Christmas, common sense prevails and I hope that conditions will improve for all of you to reach your destinations safely over the Christmas period. May I take this opportunity of wishing everyone who reads this column a very blessed and joyful Christmas.
Times of Church services are available here on the website, and there is something for everyone. If you would like to know more please telephone or email Sarah Shipman.
In a week's time Christmas will all be over for another year and we will be looking back over the past year and forward to 2010 Here in Arkendale it has been a very exciting year with the completion of the new Community Hall, and the committee are working hard to ensure that in the new year the hall will be used and enjoyed by a wide variety of organisations. May I take this opportunity to ask you to spread the word about the wonderful facilities we now have, and bookings can be made through Mrs Caroline Houseman tel:340240.
Arkendale WI will hold their first meeting of the new year there at 7.30pm on the 6th January and new members will be very welcome. May I please remind current members that the subscriptions will be due that night and we are also asked to bring a tombola prize.
So at the start of a new decade and with a new hall, Arkendale and the surrounding villages have much to look forward to. May I wish you all a very happy and healthy 2010.

[Sarah Shipman - 20th December 2009]

---
Coneythorpe Christmas Tree
The Christmas tree was erected on the green on Sunday 13th December. Supplied by Thorpe Trees, it is one of the looked forward events in the village. Let the festivities begin!


---
Community Hall AGM
The AGM was held last week but it was attended by no members of the public other than committee members. In future years it will continue to be held during the last week in November ( a change from the past) . The chairman, Alan Stokes, reported that 2009 had been a momentous year for the villages and the committee because all the previous year's endeavours have resulted in the building of the new community hall at a cost less than 5.0% over that originally budgeted. The accounts are currently with the auditor.It was noted that bookings for the new hall were going well and users were happy with the facilities offered; Caroline Houseman is in charge of bookings and she can be contacted on tel: 01423 340240.

[Sarah Shipman - 5th December 2009]

---
Quiz Night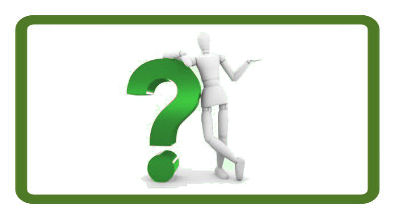 Last week the Quiz Night at the BlueBell in Arkendale was well attended and there was a great deal of laughter and fun throughout the evening. The food was very good with sumptuous cakes and unlimited tea and coffee, coutesy of Ken, the landlord. Many thanks to him and his team for their generosity and also to all who were involved in compiling and delivering what was an extremely entertaining quiz. In the region of £200 was raised for Church funds.

[Sarah Shipman - 25th October 2009]

---
Pampered Chefs
Over 30 people attended the Pampered Chef evening on Wednesday and the event succesfully raised over £200. This was a superb effort, particularly considering that there has been so much happening in the village in the last few weeks for which local people have been asked to make contributions. There are no fixed dates as yet for any other events this year but please watch the events page for details as they emerge.

[Sarah Shipman - 16th October 2009]
---
The Community Hall is Open!
The communities of Arkendale, Coneythorpe, Clareton, Flaxby and Ferrensby woke up last Saturday with a sense of excitement and disbelief After so many years of hoping for a new hall it was hard to believe that the dream had, at last, been realised.

During the morning, there were last-minute preparations to be done but soon the new hall, bedecked with bunting and flowers, was ready for the grand opening. The only aspect of the day out of the control of the committee was the weather, and no-one could have anticipated what a wonderful sunny day we would all enjoy so late in September.

Click here for pictures of the opening day
At 1.30pm, the first of two sets of morris dancers entertained in the Blue Bell car park; they were a group of ladies from Knaresborough, and their dancing was a fitting start to the celebrations, after which Alan Stokes, chairman of the committee, made a speech in which he looked back over the years. Canon Peter Midwood then blessed the new hall and all those who would use it and everyone said the Lord's Prayer before the actual opening ceremony.
The committee had always wanted this day to be a truly community occasion and this was symbolised very poignantly by the cutting of the ribbon being performed by the oldest member of the community, Mrs Emily Houseman, 95, with the youngest, Joshua Taylor, aged five days. Although Joshua slept through the whole proceedings, there will be plenty of photographs to remind him of the part he played in what was a very historic occasion.
Well over 300 people passed through the hall at some point in the afternoon. There was wine and soft drinks, plates of cakes, and a chance to view the hall inside and out, to reminisce with pictures of days gone by in the old Nissen hut, and to catch up with old friends and memories of village events. One lady came who had been born many years before in the Blue Bell, others came who had lived in the village and moved on.
Further entertainment from Ripon City Morris Dancers, soprano vocalist Ione Cumming, Kathryn Howe and her newly-formed children's choir, Trevor Rowe and Jo Smith was enjoyed throughout the afternoon.
On Sunday, a special service of celebration for the new hall was held at Arkendale Church. Canon Peter Midwood and chairman Alan Stokes led the well attended service, which was a fitting end to what was an exceptionally happy weekend for everyone involved.
Everybody involved with the project to build the new community hall, and organising the celebrations on the opening day should be congratulated on a superb job done, the benefit of which will be enjoyed by the local communities for years to come.

[Sarah Shipman/Gavin Holman - 2nd October 2009]
---
Report from the YORKSHIRE POST:
Hall dream comes true for village after wait of 78 years - by Lauren Potts

For 78 years, residents of the North Yorkshire village of Arkendale have shared a dream. It began in 1920 with a humble Army hut, donated to the village after the First World War, which fast became the centre of community life. But despite being its importance - the centre for parties, Women's Institute meetings and generations of friendships - it was in desperate need of a revamp. Designs were drawn up as early up as 1931, but the stumbling block, as always, was money.

However, after years of planning and continued support from residents, the proud unveiling of Arkendale's new village hall last weekend signalled the end of a seven-decade struggle. The old hut had had to be demolished in 2007. Chairman of the Village Hall Committee Alan Stokes said: "It was always an ongoing project, looking at how to enhance the hall, make it bigger. But committees have to go through a process of exploring things before reaching a decision. Commissioning architects began years ago. But of course, there was no money. So it took a while."

Committee members over the years worked tirelessly to set up a new communal meeting place, but it was only recently that finally plans got off the ground. "We had designs and quotes from architects when I joined as chairman of the committee in 2005," said Mr Stokes. "One architect quoted us £300,000. But Arkendale only has 270 residents so we had to take a more pragmatic approach."

It became clear that the largest hurdle was funding for the project. Mr Stokes added: "From 2005 the community resumed working hard to raise money. But it was clear that even with help from the surrounding villages we had to start looking at obtaining grants."

Even though it was a long process, outside organisations were forthcoming with donations, the main funds coming from the Big Lottery Fund and WREN, a waste recycling company. "In the beginning we found it difficult to get funds, but once people saw us working on it, they began to help," said Mr Stokes. Between the two companies, £220,000 was donated towards the cost of rebuilding the village hall from sustainable timber supplies, with additional, tireless fundraising from Arkendale residents. Mr Stokes added: "The fundraising never really stopped, but in recent years it has been revitalised. We have held auctions, quiz nights, car boots, we even held a miniature music festival in a nearby field." Charities such as the Arkendale 10k Run provided additional funding and businesses further afield such as Bettys and Taylors of Harrogate donated both money and produce.

Finally almost eight decades since the idea was first formulated, the village gathered for the hall's grand opening. Attended by the whole community, plus residents from the surrounding areas of Coneythorpe, Clareton, Flaxby and Ferrensby, the afternoon met with great success. "More than 300 people attended, plus, the weather was glorious," said village correspondent Sarah Shipman. "We have been working for years for a new hall. It is an achievement for everyone."

The oldest and youngest residents, Emily Houseman, 95, and Joshua Taylor, just five days old, marked the occasion by snipping the ribbon outside their eco-friendly village hall. "It really has been a great encouragement to the community," added the committee chairman, with a sense of pride. "We are delighted that Emily and Joshua were there to bring the old and the young together. It is, after all, our aim to bring the community together."

But the work is far from over. "It's an ongoing project. We will need money so that the community can continue to use it for themselves. Once a few things are finalised, we will be straight back onto the fundraising," he added.
---
The big day has arrived
As a result of donations from the Big Lottery Fund, WREN and other donors, and very hard work by members of the villages, the Arkendale Community Hall is, at the time of writing, nearing completion. We are therefore very happy to be able to issue an open invitation to everybody who lives in the villages of Arkendale, Coneythorpe, Ferrensby, Clareton and Flaxby, and indeed to anyone else who has been connected with any of those villages in the past. The grand opening ceremony of Arkendale Community Hall is to take place this weekend on Saturday, 26th September from 1.30pm to 5.30pm. During that time there will be Morris dancing, live entertainment from Ione Cumming and a newly-formed children's choir, a chance to see the history of the old hall, and a chance to have a good look round the new one. The cutting of the ribbon ceremony will be performed at 2pm. Please take this opportunity to meet up with old friends and make this event a really memorable community occasion.

[Sarah Shipman - 19th September 2009]
---
Special Service
On Sunday, 27th September at 6pm there will be a special service of celebration in Arkendale Church. With the new community hall in the forefront of our minds that weekend, the service will be a service of praise and thanksgiving, focussing very much on the future and all that is good in all the villages that the new hall will serve.

[Sarah Shipman - 4th September 2009]
---
Cake Stall
The cake stall in Knaresborough market on Wednesday, 26th February, raised about £260 for Arkendale Church funds. Thank you to all who contributed cakes, produce and preserves for the stall and to all who supported us on the day. A particular thank you to those who braved the pouring rain to set up the stall and sell the wares. It was not the sunny weather we had hoped for but, despite that, good humour and laughter prevailed.

[Sarah Shipman - 4th September 2009]
---
Farming
There has been some publicity in the press recently from people who have complained about the tractors on our country roads. Yes indeed, at this time of year, we are regularly held up by farming vehicles 'chugging' along, sometimes covering our windscreens with bits of straw, and sometimes leaving a good supply of sods of earth in the middle of the road.

However I wish to come to the defence of the drivers of those farm vehicles. We live next to a farm and have seen first hand over the last few weeks how hard our farmers work day and night to bring in the harvest. Theirs is no 9 to 5 job; they are up with the sound of the cockerels and still working non-stop when we're putting our lights on in our homes.

In Arkendale we are proud to have working farms in our community and proud of our farmers. At a time when farming faces so many bureaucratic obstacles and difficulties with climate change, a little inconvenience on the roads at the farmers' busiest time of the year is a small price for the rest of us to pay for the benfits we all enjoy as a result of the dedication and hard work of farmers both in Arkendale and elsewhere.

[Sarah Shipman - 23rd August 2009]
---
Community Hall
There has been much activity at the new hall during the past week and the building is in its final stages of completion. The kichen equipment has been installed, utilities connected and furniture ordered. The new hall will be almost completely finished by the end of the month if all goes to plan.
The hall committee are preparing for the grand opening on the afternoon of September 26th which will be here very soon. While we feel very excited about this new venture, it is also useful to remind ourselves that the day to day running of the hall is going to incur certain costs which will be covered by some letting but also by continued fund raising. Therefore the donor plaque scheme for raising funds will continue both now and beyond the opening date.

[23rd August 2009]
---
New Community Hall Grand Opening
A date has been fixed for the Grand Opening; the festivities will be on the afternoon of Saturday, 26th September. More details will be given as soon as they are available but, in the meantime, please put the date in your diaries because it promises to be a 'real village occasion'!
---
Arkendale, Coneythorpe, Clareton Parish Council
A meeting of the Parish Council was held on July 22nd at 7.30pm in Arkendale Church and the following points of interest are taken from the draft minutes:
Mr Peter Thorndyke has resigned from his position as Parish Clerk and he was thanked for all his hard work over the last five years. The appointment of Mrs Zillah Hopps to replace him was approved by the Council.
Under 'Planning' an email was received from County Councillor John Watson, saying that the timescale for the incinerator planning application has slipped by three months. A decision upon the 'preferred partner' (ie the successful bidder) will not be made until at least September, because the discussions with the two finalists are taking much longer than expected. This should not be seen as a precursor to the cancellation of the whole project. A planning application will probably be submitted in March 2010 and a decision made in March 2011.
Under general village maintenance, it was agreed that a new leaflet that has been issued by Harrogate regarding dog fouling and the law should be delivered to every property in Coneythorpe and Arkendale. The next meeting of the Parish Council will be on Tuesday, 15th September in Arkendale Church at 7.30pm. We would encourage members of the villages to attend. In the meantime all details for the Parish Council are on the website or on the village notice boards.
---
New Hall Fundraising
The new hall is progressing well but funds are still needed for equipment inside, for example chairs and tables, crockery, kitchen equipment.
Thanks to all who came and supported the Arkendale Garden party where a record £730 profit was made for community hall funds. The Committee are as always very grateful to all those who helped make the afternoon a success, especially Sue for offering to let us hold the event in such a splendid garden, Ruth and Rob for masterminding the lovely food and organising the tombola and also to The Bandits for wonderful entertainment all afternoon.
Many villagers lent a hand, by offering delicious salads, washing strawberries and also by helping to move furniture to and from the garden. At this very busy time for the trustees and committee with the hall rebuilding project, it was wonderful to see such support.


---
Annual Village Assembly 2009
Minutes of the Annual Village Assembly for Arkendale, Coneythorpe and Clareton held in Arkendale Parish Church on May 27 2009.
There were four Parish Councillors present, the Parish Clerk, 16 members of the public and our Harrogate Councillor, Anthony Alton and our NYCC Councillor, John Watson.
The Chairman, Peter Topham, gave his annual report on the activities in the parishes during the past year and this can be viewed on the notice board and on the Arkendale web-site.
Alan Stokes, chairman of the village hall committee talked about the new hall being built that was now very noticeable on its site next to the Bluebell Inn. He said that the builder had indicated that the building would be ready for handing over the keys to the committee by mid August this year. It would then need to be fitted out internally with such items as blinds, cutlery, and furniture, hand dryers, kitchen equipment etc. There is sufficient funding in place to cover all the costs but fundraising must continue to ensure there will be adequate reserves available. He emphasised that this would be a 'community hall' not a commercial venture, but it will be hired out to various organisations such as educational groups
Jane Watson, the Coordinator of the Coneythorpe & Clareton neighbourhood watch scheme described the way the organisation operated using telephones, e-mail and personal contact and said that it was useful not just as a crime fighting tool but also providing pastoral care in that it meant that people were kept in touch with each other. It was noted that Arkendale had a similar scheme run by Jane Hartley and Cynthia Strong.
Gavin Holman gave a brief talk about the new Arkendale web site, requesting comments and criticism. The site is open to all local organisations to post minutes of their meetings, details of forthcoming events etc. The site also contains details about the village and its amenities. There are plans to link it to the Coneythorpe web site too.
Coun John Watson provided some very useful information about the proposed waste incinerator at Allerton Park, the full details of which can be found on both the notice board and the web-site. This is a matter which is of great concern to the villagers and meetings have already been held to discuss it. However Coun Watson felt that the time for protest groups and Parish Councils (if they decide to object) to become really active is when the Planning Application is actually submitted at the end of September 2009 when the precise details of the proposed site will be available.
---
Dog Fouling
There are some dog-owners who are exercising their pets in the village without using poop scoops; the results are particularly unpleasant on grassy verges where children could be running around. Please ensure that you clear up after your dog at all times where others could be walking.
---
Village Spring Clean
Thank you to those people who turned out last Saturday for the Arkendale village spring-clean. It proved to be a much easier job than usual which may well be due to two factors: the vigilance of the residents and also the relatively new litter bins in the village which, according to Harrogate Borough Council, are regularly used.
---
10K Run - 29th March 2009
The tombola at the 10K run raised a wonderful £411 for village hall funds.Thank you to the many people who donated prizes for this.

Arkendale Church raised £730 from the sale of refreshments and the barbecue at the 10K run. Thanks to everyone who baked or came to help on the day.

[Jean Cox]


---
Village Hall - 20th March 2009
Any news this week will seem very low key after last week's long-awaited news; building has started on the new village hall and it heralds a very exciting time for both Arkendale and the neighbouring villages.

Although most of the work so far has been done by people living in the villages of Arkendale and Coneythorpe, it is hoped that those living in other villages too, like Ferensby, will want to join us and benefit from all that the hall will have to offer.

Once it is built other talents and expertise will be needed, and if you feel you would like to offer some help with the hall when it is built, please contact the Chairman, Alan Stokes, on 01423 340517.

In the meantime, fund-raising goes on so that the hall can be equipped to the highest standards, and the next event is detailed below. Please give support in every way you can.

Church Services

Next Sunday is Mothering Sunday and there will be a village service for all ages in Arkendale Church at 9.30am. The Sunday School will be taking part, and there will be coffee after the service.

The 10km Run

On the following Sunday, March 29, there will be no service at Arkendale because many of the congregation are involved in one way or another with the 10km. Both the Church and the Village Hall Committee will be busy at this event, and volunteers are urgently needed to help both groups.

The Hall Committee is running a tombola stall and need plenty of good prizes; please pass these to Caroline Houseman (01423 340240) or Alan Stokes above.

The Church will be feeding both runners and their families (and anyone from the village who would like to come and join in the fun afterwards) with drinks and cakes and their usual hot dogs and beefburgers from the barbeque.

If you can bake some buns or muffins, give some much-needed assistance with the catering on the day, or help to sweep out the barn the day before and set out tables and chairs in the morning, please contact me (Sarah Shipman, 01423 340515).

All this activity will take place at Sunnyside Farm and all offers of help will be much appreciated, however small.

[Knaresborough Post]


---
Arkendale's £250,000 hall gets under way - 13th March 2009
Work has begun on the new £250,000 village hall in Arkendale. Following years of planning and negotiatons, work started earlier this month on the site for a new timber frame, environmentally-friendly building, specially imported from Scandanavia.

A ceremony held on Monday morning to mark the occasion saw the Village Hall Committee joined by Edward, Lord Mowbray, local residents and Martin Gallon, of Blue House Construction, who has supported the committee throughout.

Alan Stokes, Chairman of the Committee said: "We asked Edward, Lord Mowbray, as we wanted someone who had an interest in the community. He fulfils this and is often in the village. "We equally wished to demonstrate a wider interest than just Arkendale in that the aim is for the new village hall to serve villages around Arkendale such as Coneythorpe, Clareton, Ferrensby and Flaxby."

The old hall was recently demolished after 87 years and after a great deal of hard work say the Committee, everything was in place to go ahead with the £250,000 project.

"We were awarded a grant of £173,000 from the Big Lottery Awards for All Fund three years ago which covered early architect and professional fees," explained Alan. "We also received £50,000 from WREN. Without their help, the project would not have been possible at all. Other smaller grants have been received and ongoing fundraising events make up the balance."

Work is expected to be completed by early summer.

Alan added: "The community has been very loyal in supporting the fund-raising events for the hall in the past, however fund-raising needs to go on as the new hall will require furniture and kitchen equipment etc so events will be ongoing to raise funds for these.

The first fundraising event will be the Arkendale 10k Run at Sunnyside Farm on Sunday, March 29 at 11am. A family day out; there will be a barbecue, refreshments and tombola. Donations of prizes to Caroline Houseman or any other member of the committee.

[Knaresborough Post]


---
Church News - 27th February 2009
The grand sum of £201 was raised for church funds at the tea-tasting on Saturday. There was plenty of laughter as new and exciting teas were tasted; the 'St Bartholomew's Tipple', specially blended for the occasion proved popular, but equally popular was Blue Sapphire. However, despite all the interesting flavours and smells, Yorkshire Gold was the tea that continued to please the majority!

May I thank everyone who attended the event, those who donated prizes and/or cakes, all who helped on the day and also those who kindly sent donations because they couldn't attend in person.

Last, but not least, may I thank Taylors of Harrogate who donated samples of some of the teas for tasting.

The next event for Church funds will be the 10km Arkendale run on Sunday March 29. As has happened for the past two years, the Church members will be providing refreshments for runners, families and friends at Sunnyside farm. There will be a well-stocked barbecue and cakes and drinks. Please put the date in your diaries.

The service at church on Sunday, March 1 will be a Village Service at 9.30am.


---
Parish Council Meeting - 4th February 2009
The Parish Council met on Wednesday, February 4; there were five members of the public in attendance plus Anthony Alton, our Harrogate Councillor, and John Watson, our North Yorkshire County Councillor.

Due to the resignation of one of the Parish Councillors because of pressure of work, an advertisement has been put on the village notice board for a replacement councillor. If anyone is interested in filling the vacancy, please contact the Clerk of the Council, Mr Peter Thorndyke or the Chairman, Mr Peter Topham.

Routine business was discussed before Coun Watson reported on the energy waste scheme proposed for North Yorkshire.

He said that an EEC directive made it essential to reduce the amount of waste going to landfill from 65% to 10%. Accordingly, North Yorkshire County Council have received bids from various companies to build and run a central incineration plant in this county.

Although three sites are being considered in Thirsk, Selby and Allerton Park Quarry, the latter is very likely to become the preferred site. Coun Watson estimates that they will need a building about 100 feet tall and a chimney 200 feet tall, but the building would be built at the bottom of the quarry. It is therefore not possible to determine how much of an eyesore it would be but some part of it would definitely be visible from the Coneythorpe to Arkendale Road.

Concerns were expressed about the amount of extra traffic that such a project would generate, especially along the A59, thereby exacerbating the problem at the Flaxby junction. Also concerns were voiced about the possibility of noxious emissions from the chimney although assurances have been given that modern technology has overcome this potential problem.

The project is still in its very early stages of discussion and Coun Watson has promised to keep the Parish Council informed of various developments.

The issue of dog fouling was discussed again and Harrogate Borough Council leaflets on the topic are to be distributed round the villages of Arkendale and Coneythorpe.

The matter of rodent infestation at Clareton was also discussed. The situation has improved due to the intervention of Tim Canaver of HBC but the problem of rats on the roadside still needs to be addressed.

The Clerk has been asked to look into the cost of a commercially prepared and maintained website for the village of Arkendale.

The date of the next meeting will be March 25. If there are any matters that the public would like to be brought up at this meeting, please pass them on to any of the Councillors or the Clerk.


---
W.I. Meeting - 4th February 2009
The meeting of Arkendale WI was held on February 4 in Minskip Village Hall. Mrs Jean Stokes welcomed members on a very cold snowy evening.

An invitation had been received from Roecliffe WI, inviting our members to a talk to be given by the Mouseman of Kilburn on February 13 at 8pm, cost £3. Five members will attend.

Attention was drawn to the questionnaire in the January issue of the WI Life magazine concerning the way forward for the organisation during the next 50 years.

Eileen gave details of the group meeting to be held at Coronation Hall on Tuesday, February 17 when the curator from the museum in York would speak about Victorian Costume.

Jean introduced Tony Brown who spoke about his trip to the Arctic. He had begun his journey from Svalbard which was as far north as it was possible to go. We learnt about the different types of ice and saw wonderful cloud formations above the snow covered mountains. The sky had been blue nearly all of the time he was there and this was reflected in the sea. He quoted from a poem written by a soldier during the first world war - Diamond Light on Snow - and how true looking at the wonderful photographs he had taken mostly from the boat they stayed on. Especially fascinating were the pictures of a female polar bear unaware that all her movements were being filmed.

Diane gave the vote of thanks and supper was served by Pat and Maureen.

Our next meeting will be held on March 4 when Pat Dunnill will show members how to make an article using beads. Visitors are most welcome to attend our meetings which begin at 7.30 pm.
2009

---

27-Jan-09
Church News - A very enjoyable coffee morning was held last Saturday at the home of Mr and Mrs Horner, and over £200 was raised for Church funds. This was the second of a series of events to be held throughout the year which, as well as raising much needed funds, have proved very successful social events too. Watch this space for news of the next one.

The service on Sunday will be a Village Service at 9.30am. On Monday, February 2 at 7.30pm, a special Candlemas service is to be held in Ripon cathedral when anything up to 5,000 candles will light up the inside of the building. I am told that it is a very moving service and everyone is welcome. However if you want a good seat an early arrival is recommended.

Wednesday, February 4 is a busy evening for the village. Arkendale WI meets at 7.30pm in Minskip Village Hall and the Parish Council meet in Arkendale Church at 8pm.

I was talking to someone today who lives in a village in which their Parish Council is not active. We are extremely fortunate to have both an active Parish Council and a flourishing WI but both rely on support from the residents. Newcomers and those who have lived in the village for a long time are very welcome at either of these meetings.

---

16-Jan-09
Church News - There will be a coffee morning at Bryan Lodge on Saturday, January 24 from 10.30am till noon with a raffle and cake stall. Donations of prizes or cakes to Margaret and Jim Horner will be very much appreciated. All proceeds are for Church funds and everyone is welcome. The service on Sunday will be Evensong at 4pm.

Village Hall - The AGM was opened by Chairman, Alan Stokes on Monday, January 12. He began by giving a resume of what had happened over the past year, resulting in the awarding of the grants from WREN and the Big Lottery Fund which will ensure that the dream of a new hall can be realised. He then explained that there have been some delays in starting the work due to the need to clarify certain legal points and sort out the deeds etc; 'final negotiations' are still ongoing but the project is going in the right direction.

Those present were aware of how much very demanding work both Alan Stokes and the secretary, Peter Thorndyke, have been involved in and the latter were thanked profusely for all they had done and continue to do. It was made clear that fund-raising still needs to continue and please watch this space for news of special fund-raising events. The AGM was follwed by a committee meeting where further issues were addressed. A starting date for the project has not yet been set but a great deal of hard work is being done behind the scenes to ensure that work will commence as soon as possible.

We are very fortunate to have in our village such a dedicated village hall committee; those of us not personally involved owe them a real debt of gratitude for all their efforts and I hope that we will show our appreciation by attending future events and giving them the support they deserve.

---

9-Jan-09
Church Services - Holy Communion at 8.30am on Sunday, January 11 at St Bartholomew's. A date for the diary is Sunday, January 18 when there will be the Confirmation Service for the Benefice. This will be held in Farnham Church at 10am and will be the only service that Sunday.

WI - The first meeting of the New Year was due to be held on Wednesday, January 7 at 7.30pm in Minskip Hall. Visitors are very welcome to attend any of the meetings and there is always a good supper to round off the evening.

Village Hall - New village hall annual meeting - there has been a slight delay in the starting of the building project due to offices having been closed over Christmas and the New Year and people being on holiday.

It is hoped however that very soon work will commence on the site and from that point on there will be regular updates. In the meantime, the Village Hall annual meeting will be held in Arkendale Church at 7.30pm on Monday, January 12. At this meeting, there will be an opportunity to catch up with the latest news. It is hoped that as many people as possible from the villages will come to support the committee.

---

2008

---

19-Dec-08
Christmas started in Arkendale on Thursday evening when the Sunday School went carol-singing round part of the village. It was a very cold evening, but warm, home-made sausage rolls at the start put everyone in the mood. The children enjoyed themselves and the singing put everyone in a festive mood.

There is a slight change in the arrangements for Christmas services at Arkendale this year and the dates are as follows:


Sunday, December 21, 9.30am Eucharist Service; Wednesday, December 24, 5pm Crib Service. This has proved an extremely popular service in the past for all ages and a lovely way to start the festivities on Christmas Eve. This year the Sunday School will be taking part and during the service the crib will be set up in the Church.
Thursday, Christmas Day, 9.30am Eucharist Service; Saturday, December 27, noon Baptism;
Sunday, December 28, 6pm; Annual Carol Service of lessons and carols by candlelight followed by mulled wine and mince pies in the church.
Also on Sunday, December 28, at 10am, there will be a United Eucharist Service for the whole Benefice at Copgrove Church for anyone who wishes to take communion.


Visitors are very welcome to all the services.

---

2-Dec-08
Church - The sherry and mince pie evening last Friday at the home of Mr and Mrs Houseman proved to be a very enjoyable social event; it was well-attended and nearly £300 was raised for church funds. The next event will be a coffee morning at the home of Mr and Mrs Horner on Saturday, January 24. Please note the change of time for the village service on Sunday at Arkendale; it will start at the new time of 9.30am.

Village Hall - Since the offer of two very generous grants from WREN and the Big Lottery Fund, the Arkendale village hall committee has been working hard to finalise plans for the start of the building project. The whole process has been a very complex one but help has been forthcoming from many quarters which is greatly appreciated.

A slight delay has followed the offer of the grants due to legal problems over missing deeds which needed sorting out, but all is back on track for construction work to begin very soon, with a view to opening the building in the first part of 2009.

A fence has already been erected around the site and excitement is mounting. Although the weather is not as crucial when building a log construction, nevertheless we hope for milder days during the next few months so that work can progress according to plan. There will be regular updates of progress but hopefully the site will soon speak for itself. There will be many opportunities in the future to mention those who have played a very important part in this whole project, but it is fitting to make mention of Mr Alan Stokes (Chair) and his team at this point because their very hard and dedicated work will continue behind the scenes as the building progresses.

If anyone feels that they can help with any free publicity at the various stages, perhaps articles in local magazines or photos, please contact Alan on 01423 340517. In the meantime, we look forward to seeing the forlorn site of the previous building soon transformed into a site worthy of the new build.

---

24-Nov-08
Church Services and Activities - There will be a Benefice Service at Scotton Church at 10am and there will be no service at Arkendale this week. Tonight, Friday, November 28, Mr and Mrs Houseman are hosting a "Sherry and Mincepie" evening at Holgate Bridge Farm at 7.30pm. Proceeds are for the Church.

Parish Council - There was a very good attendance at the parish council meeting on Wednesday, November 19. Chairman, Mr Peter Topham, welcomed everyone and explained that under his chairmanship, members of the public will have ample opportunity to participate in discussions and that no major decisions will be made without full consultation of those who live in the villages of Arkendale Clareton and Coneythorpe.

Matters arising at the meeting of particular interest were as follows:-

The precept will be the same this year as last year and it is hoped that the parish council may be able to use some of it to help equip the new hall.
Moves are to be made to apply for a further grant to buy a vehicle activated speed device for Moor Lane. The Council is still very concerned that measures should be taken to prevent speeding before someone is seriously hurt.
Two new rubbish bins have been situated in Arkendale. The problem of dog faeces in the villages of Coneythorpe and Arkendale was discussed and leaflets are to be distributed in both villages to raise awareness of the problem. Dog walkers are asked to pick up the offending items. They can be placed in the rubbish bins in Arkendale provided that they are wrapped up first.
Mr Topham made it very clear that previous discussions about making Arkendale into a conservation area were only exploratory. The majority of people are not in favour of such a move and the matter has now been dropped.
Concern was expressed about the cars parked on Coneythorpe village green also an infestation of rats at Clareton due to a pile of rotting grain. The Clerk of the Council has been instructed to make the necessary enquiries to have both of these problems rectified.

The next meeting will be on February 4 in Arkendale Church. It is hoped that there will be as good an attendance at this meeting as there was at the last one.

---

14-Nov-08
Parish Council: The next Arkendale, Coneythorpe and Clareton Parish Council meeting will be held on Wednesday, November 19 at 7.30pm in the Church at Arkendale. The councillors are there to represent this community and it is important that they hear your views on the local issues. The meeting is open to the public and your attendance will be welcomed.

Church Services: The Sunday service this weekend will be a Eucharist service at 9.45am. Please note that the Evensong service next week, Sunday, November 23 will be at the new winter time of 4pm.

Dates for the Diary: There will be a "Sherry and Mince pies" evening at the home of Mr and Mrs Houseman (Holgate Bridge Farm) on Friday, November 28 in aid of Church funds. The more the merrier!

---

24-Oct-08
Sunday Service: There is an important change to the Sunday service this week. Instead of the usual Evensong service in Arkendale Church this coming Sunday, October 26, there is an open invitation to the whole Benefice to attend sung Evensong at the Cathedral in Ripon at 5.30pm at which our Rector, Canon Peter Midwood, will be preaching.

Gift Day: Thank you to all who gave gifts to the church last Saturday; the grand sum of £1,072 was donated. There was a very relaxed atmosphere in the church and we were treated to singing by Linda with Gillian on the organ and some impromptu music on the Northumberland pipes and the guitar from our Rector, Canon Peter.

---

17-Oct-08
A small piece of Scandinavia is on its way to Arkendale, after the Big Lottery Fund pledged £173,000 towards the construction of a new community building. Arkendale Memorial Hall's ambitious project involves the replacement of a recently demolished, 87-year-old village hall with a modern timber, eco-friendly structure imported from sustainable sources in Finland.

The local community has secured a slice of the Big Lottery Fund's Community Buildings programme, which has made awards worth £2.7m for bricks and mortar investments across England.

Peter Thorndyke, secretary to the Village Hall Committee, said: "We're delighted to have been awarded this grant from the Big Lottery Fund, and also a grant from WREN, which will allow us to build a new village hall that everyone can be proud of. Arkendale has been without a communal hall for some time and has had no focal point in which various interest groups could meet, socialise, hold educational sessions and bring together all the different sectors of the community. Our hall will be built in Arkendale, but will offer facilities to residents across the local area."

Caroline James, Big Lottery Fund Head of the Yorkshire and Humberside region, said: "Arkendale Memorial Hall will be a fantastic asset to this rural community. Buildings like this really are at the centre of daily life."

Arkendale's village hall will be environmentally friendly both inside and out. It is to be built from laminated logs and will also include a range of energy saving features. Although only a temporary measure, the local pub, The Blue Bell, is not the most suitable base for the village's Sunday School, said the committee. A new building, complete with fitted kitchen and social room, will also offer a venue for a range of other social events

---

7-Oct-08
The New Village Hall - It is a great joy to write this article. Rarely do we have exciting news to share, but this week the news is really thrilling. As you will doubtless have read elsewhere, or heard on the grapevine, the Big Lottery Fund and WREN have awarded us enough money to build the new hall. The contractors will be Blue House Construction Ltd, who specialise in Scandinavian buildings, and many more details will become available little by little; there is still much work to be done behind the scenes before we will see anything visible happening in the village.

None of this would have been possible without the very hard work of the village hall committee, past and present, but a particular special thank you must go to the present chairman, Alan Stokes, and secretary, Peter Thorndyke, who have successfully worked through each stage of the lottery bid. Fliers are being delivered round Arkendale and neighbouring villages to keep you all informed, and committee members are urgently needed from other villages so that everyone is truly represented. If you are willing to sit on the committee, please contact Peter Thorndyke on 01423 340671.

Thank you too to all of you who have faithfully supported fund-raising events in the past. Please do continue to do so because more fund-raising will be needed to equip the hall to a high standard. The dream is coming true and we look forward to very exciting times ahead.

Church Services - This year has been a terribly difficult time for farmers; combine harvesters have been stuck in fields, peas ploughed back into the soil because they have rotted in the wet weather and corn driers have had to work overtime. The farmers will be very much in our minds at this year's Harvest Festival Service which will be celebrated at Arkendale Church at 6pm on Sunday, October 12. This is a change from our normal time and we hope that it will suit plenty of people. The Sunday School will take part in the service which will be suitable for all ages. There will be coffee and cake served after the service. Please bring your friends along.

Arkendale Church Gift Day - The Church will be holding a Gift Day on Saturday, October 18 from 10am to noon. It will be preceded by a said Eucharist service at 9.15am. The costs of keeping a village church open are rising rapidly like everything else and it is becoming increasingly difficult to make ends meet financially. Rural churches are in very real danger of closure but we are doing all we can to try to avoid this happening in Arkendale. If you feel you would like to contribute towards the upkeep of the church, please pop along on Saturday morning or if you would just like to join us for coffee, you will very welcome.

The church is the church for the whole village, for weekly events as well as for celebrations and special services, and everybody is welcome at any time. There will be coffee and biscuits served in church (no charge) on Saturday during which, from 10.45am - 11am, Linda from the Blue Bell and Gillian the organist, will be providing a short musical interlude. There will also be a representative from the Sunday School showing the sort of activities that the children do. Please support the church if you feel you can.

---

1-Sep-08
Parish Council - The Parish Council for Arkendale, Coneythorpe and Clareton met on August 27 at Arkendale Church and the meeting was attended by two members of the public. The following matters were discussed:-

There is still concern about speeding through the villages and different measures to combat this are being considered.
The Clerk is writing to request that the Borough Council be responsible for at least one official 'clean-up' in the villages each year. At present, litter in the hedgerows and footpaths is picked up by volunteers from the villages.
The Clerk is also going to write to BT expressing concern at the slow broadband link in the villages. It seems unfair that we are not able to enjoy the same level of service that is enjoyed by those living in the towns, when we all pay the same amount for it.
It was discussed whether or not Arkendale should become a conservation area like Coneythorpe. The Parish Council have no views either way at present but would welcome opinions on the subject.

If anyone has any thoughts for or against, please pass these on to your local Parish Councillors or to the Clerk of the Council. Names of the Councillors are on the village notice board opposite the BlueBell Inn. The date of the next meeting is November 19. If anyone has any matters that they would like to be discussed at this meeting, again please contact the Clerk or any of the Councillors.

Cake Stall - The Church cake stall proved a great success with over £300 being raised for Church funds. Thank you to all who contributed or helped on the day.

Two Dates for the Diary - There will be a coffee morning for all five parishes at the Rectory in Staveley on Saturday, September 13 from 10am until noon. The money raised is to help towards the rising cost of the annual away day to Parceval Hall which will be held on May 15 next year.

---

22-Aug-08
Church cake and produce stall: The stall will be held in Knaresborough market on the morning of Wednesday, August 27, however the venue that has been used in previous years has been changed. The charity stall has been resited and is now to be found on the side near the Halifax Bank towards the end of the row.

WI: Arkendale WI enjoyed a very pleasant evening at the home of the vice president, Mrs Vivienne Glover for their August meeting.

The next meeting will be in Minskip Hall again on September 3 at 7.30pm. Visitors will be very welcome.

Church Services: On Sunday, August 24, the service in Arkendale Church will be Evensong at 6pm taken by Brian Shipman.

---

4-Jul-08
Farm Concert: On Saturday the concert at Sunnyside Farm proved a huge success. An estimated 200 people or more attended and, despite the cool breeze and lack of sunshine, it was a most enjoyable event. The final amount raised for the new village hall is as yet unknown but, because of the generosity of all involved, it will probably run into four figures. The committee wishes to thank the Housemans for the loan of their land, Judith Howe who organised the entertainment, and, last but not least, those who participated in the concert; the standard of entertainment was very high and their time and talents were greatly appreciated by all.

More events will follow in aid of the rebuilding fund so please watch this space for details.

A reminder that at 9.45am on Sunday the Toy Service will be held in Arkendale Church. All are welcome.

---

20-Jun-08
A fine programme of activities is planned for Arkendale WI over the coming summer months so take out your diaries ladies! At Minskip Village Hall on Wednesday, July 2, Eunice Cransfield is to tell us about "Science in a Shopping Basket." Later in the month on Sunday, July 20, it is the annual Aldborough and Boroughbridge Show. As always this promises to be a great day out for all the family with the usual WI marquee for tea, coffee and cakes.

On August 6, there is to be a Garden Party at Rowangarth, Arkendale Road, Ferrensby. All are welcome, just bring along your favourite savoury, salad or sweet dish for a Pot Luck Supper. The time is half an hour earlier than usual, 7pm to take advantage of the evening sunlight. Arrangements are in hand to hold the supper indoors in the unusual event of the weather being inclement.

Andy Barton is making a return visit to the WI on Wednesday, September 3, in order to demonstrate the Making of Willow Lanterns. Do join us and have a try for yourself.

Anyone wishing to join the WI for the remainder of 2008 can pay the subscription for 2009 immediately and thus enjoy the benefits of 15 months subscription for the price of 12 months. Good to see a bargain in these days of rising prices.

If you would like further information about any of the above activities then please call our President, Jean Stokes on 01423 340517.

---

13-May-08
Firefighters spent more than four hours putting out a blaze in a row of terraced cottages in Arkendale, near Knaresborough on Tuesday evening. Crews from Harrogate, Knaresborough, Ripon and Boroughbridge attended after a call came through just after 10pm.

Six fire engines and a turntable ladder were needed to extinguish the fire which is believed to have started in the attic of one of the cottages.

Watch Manager, Ted Wilkinson from Knaresborough Fire Station said: "Older properties don't have firewalls between the attics and with four cottages, we had to make sure the fire didn't spread between the buildings.

"We were there at least four hours to put out the fire and make sure everything was safe.

"Nobody was injured in the blaze and several residents spent the night in alternative accommodation at local hotels."

Investigations are continuing into the cause of the fire.

---

2007

---

28-Apr-07
Quiz & Hot Pot Night - A big "thank you" to all who made up the fantastic turnout for the most recent Village Hall fundraiser on Saturday 28th April. The Quiz & Hot Pot supper evening was a huge success with the "Hassells, Hartleys and Cornes" coming out on top after a stewards enquiry! Thanks to all who took part and to all who worked hard to provide a wonderful meal and refreshments. A special mention and thanks also to Tim Braithwaite for his role as the esteemed quizmaster.

---

14-Apr-07
Arkendale Cleanup Weekend - takes place on 14th & 15th April - Volunteers Wanted! - click here to learn more....

---

9-Apr-07
Quiz and Hot Pot Supper Night in aid of the Village Hall fund - will take place at the Minskip Village Hall on 28th April 2007 - click here to learn more....

---

9-Apr-07
Per Una Fashion Show - will take place at the Staveley Primary School on 4th May 2007 - click here to learn more....

---

30-Jan-07
Village Hall Fundraising Event - "Everything beginning with S" - Many thanks to Kamamica for a wonderful evening of entertainment, and thanks also to Mr Jackson for letting us use Loftus Hill for the event. Thanks also to all raffle and auction donors and to all of you who generously provided canapes for the tables. We are pleased to announce that the event raised £2400 for our building fund.

---

16-Jan-07
Hair Night at Watkins Wright - Wednesday 7th February at 7-9 pm - Free make over for 1 lucky person! All proceeds to St. Bartholomew's Church - click here to learn more....