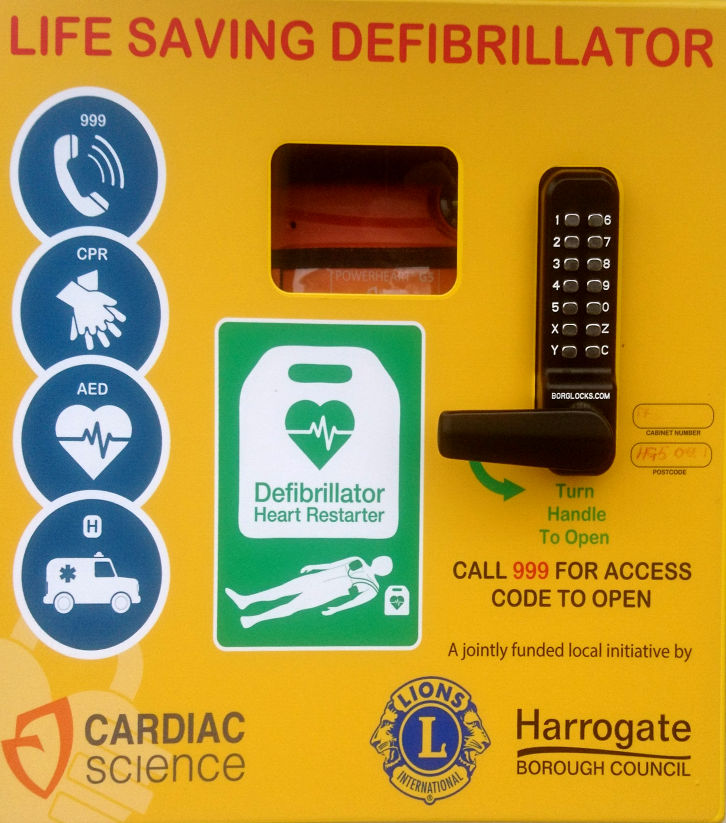 The new CPAD (Community Public Access Defibrillator) is now installed and operational on the external wall of the Blue Bell (to the right of the Main Entrance from the car park (opposite the Community Hall entrance).

To access and use it...
You must call 999, and if they assess you need a Defibrillator, let them know that your closest one is on the wall of the Blue Bell in Arkendale and they will give you the code to access the cabinet. (Note: if you live within 600 metres of the Defibrillator, they will recognise this from your postcode and automatically give you the code)
Once you have the code either go yourself or, better still, send someone else whilst you stay with the patient, to fetch the Defibrillator from the cabinet.
You do not need to be trained to use the Defibrillator, it will guide you through the process and you will be fully assisted by the Yorkshire Ambulance Service operator until help arrives.
Follow the instructions provided by the Ambulance Service.
Once complete, at your earliest convenience, please return the Defibrillator Unit to the Cabinet, not forgetting to lock the cabinet.
If you cannot return it, or have any questions or need help, please e-mail: defib@arkendale.org.uk which will be sent through to the - Guardian, Wendy Lill (or her stand in, if she is away).
IMPORTANT
: We cannot hand out the code for the Defibrillator Cabinet as the Guardian has to know that it has been used so that the Pads can be replaced and so that we can ensure it is once again available for use. The Guardian is informed of its use by the Ambulance Service.
In an
EMERGENCY ONLY
and if you cannot access the Code, please call either Wendy Lill (07947 147155) or Jon West (07960 006326)
The Parish Council wishes to thank the
Lions
and
Harrogate Borough Council
for fully funding the supply of the CPAD, and the management of the Blue Bell for funding the installation and running costs of the unit.